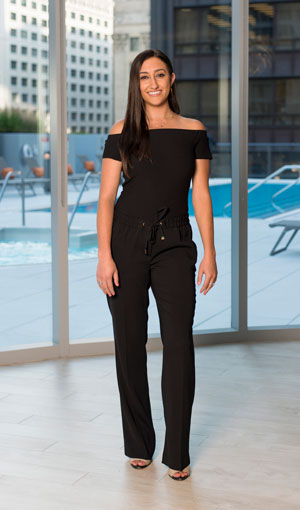 Number of years in real estate: 1
Describe your look: All black.
What do you consider a "fashion don't"? Wearing heels you can't walk in.
What is your favorite piece of clothing and why? Black skinny jeans. I'm able to dress them up or down and wear them often.
What do you consider a must-have accessory? A delicate daily necklace.
What is a fashion crime you have committed in the past? Repeating outfits too soon!
Where are your favorite places to shop? Nordstrom and small boutiques.
What, besides your wardrobe, completes your look? A water bottle.
What is in your bag/briefcase? My laptop, a bunch of old MLS sheets, external phone charger, flats.
My closet is full of… clothes I never wear!
Top: Wilfred; bottoms: Calvin Klein; shoes: French Connection; jewelry: David Yurman