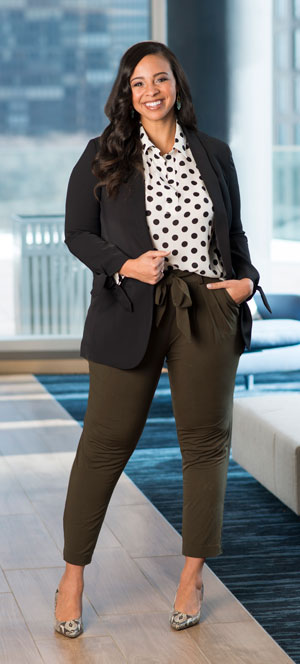 Number of years in real estate: 2
Describe your look: Simple, but fun and colorful. I love fun prints.
What do you consider a "fashion don't"? Not dressing for the occasion. Always better to be overdressed than underdressed!
What is your favorite piece of clothing and why? I love off-shoulder dresses. They are comfortable and flattering on almost anyone.
What do you consider a must-have accessory? A large but fashionable tote bag that can take me from day to night.
What is a fashion crime you have committed in the past? Not wearing the right shoes with each outfit. Wedges go better with straight-leg and skinny pants, for example, while a heel fits better with a jumpsuit and/or wider pant.
Where are your favorite places to shop? Express, Nordstrom and Francesca's.
What, besides your wardrobe, completes your look? I think even if someone is short on time, a quick red lip and nails that are kempt can go a long way in looking put-together.
What is in your bag/briefcase? Old MLS papers, five different lipsticks, random mints and gummies, laptop, an energy bar for when showings get long and I'm starving. The real question is what's not in there!
My closet is full of… Scarves and boots. Love, love them — and it's the best thing for me about the cold weather!
Shoes: Michael Kors; top: Nordstrom; pants and jacket: Express.