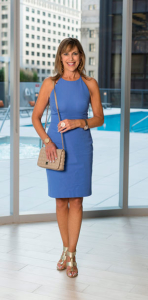 Number of years in real estate: 28
Describe your look: Contemporary/classic.
What do you consider a "fashion don't"?
Don't do "matchy-matchy."
What is your favorite piece of clothing and why?
My summer print vacation dresses. They are easy to wear, lightweight and classic. The flower prints are feminine and flattering. It's a great look that can be worn anywhere in the summer. 
What do you consider a must-have accessory?
Earrings.
What is a fashion crime you have committed in the past?
Back in the 80s, big shoulder pads were my thing! I probably wore them a bit longer than I should have.
Where are your favorite places to shop?
Nordstrom, BCBG, Club Monaco, Intermix and Banana Republic.
What, besides your wardrobe, completes your look?
A great hair cut/style and manicured nails. I love trying out new nail polish colors!
What is in your bag/briefcase?
Wallet, hairspray, comb, lipstick/lip gloss/lip liner, hand lotion, sunscreen, pen/paper, sunglasses, reading glasses, cell phone, mints, business cards.
My closet is full of…
Jeans and dresses.
Outfit: Nordstrom, Club Monaco, Banana Republic; Shoes: Zappos