Number of years in real estate: I have been in real estate for 10 years.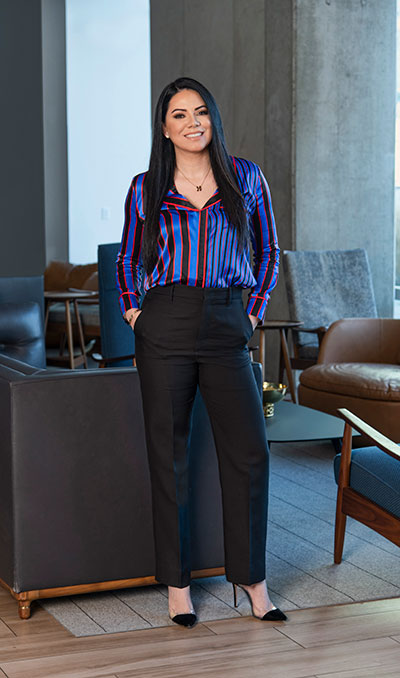 Describe your look: My overall look is classic, but I like to add a bit of edge with on-trend or oversized statement pieces. A beautiful lipstick is always the finishing touch.
What do you consider a fashion 'don't'? An oversized blazer or shirt can take the polish out of any outfit.
Is there anyone (whether it's someone you know personally or someone in the public realm) whom you look up to or admire in terms of their style? I admire Victoria Beckham. Her elegant but simple style is iconic.
What decade or time period had the best fashion in your opinion? There are two main silhouettes I love in 1950s fashion: the wasp waist with full skirt and the slim-fitting pencil skirt.
How different are your personal and business styles? They're pretty similar; I always carry a fitted black blazer with a great belt or accessories. Looking glam at all times is part of my everyday look.
What is your favorite piece of clothing and why? Having a well-fitted black blazer is a must! Add a great pair of black patent leather pumps and you're ready for anything the day (or night) brings.
What do you consider a must-have accessory? My favorite go-to accessories are black and gold statement jewelry pieces, silk scarves and oversized handbags.
What is a fashion crime you have committed in the past? Not matching my belt with my shoes
What is in your bag/briefcase? Red lipstick, cell phone charger, business cards, protein bar, perfume and hand sanitizer
My closet is full of… blazers, pants, scarves, heels and handbags!
Blouse: Alice & Olivia; pants: Gucci; shoes: Gianvito Rossi; accessories (bracelet and necklace): Hermes