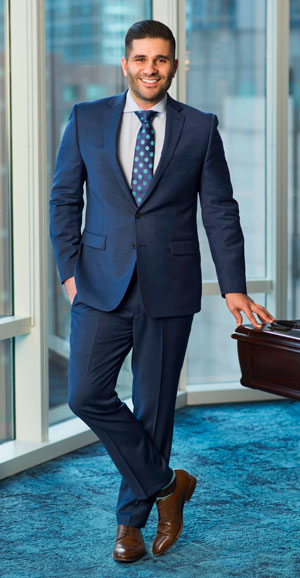 Number of years in real estate: 1 year.
Describe your look: Simple and classic.
What do you consider a "fashion don't"? Oversized clothes. You don't want to look like you borrowed your dad's suit.
What is your favorite piece of clothing and why? My socks. They add some personality to a simple look.
What do you consider a must-have accessory? A watch!
What is a fashion crime you have committed in the past? Mixing colors, blue with black, brown with black, etc. I think I've even worn all three at once before.
Where are your favorite places to shop? Suit Supply, Nordstrom Rack and Gilt.
What, besides your wardrobe, completes your look? A fresh haircut. I have a lot of hair, and having a good barber like Mike at Mario's Place Barber Shop is very important!
What is in your bag/briefcase? My laptop, business cards, a flashlight and pens, chargers for my phone and laptop.
My closet is full of… Workout clothes and old Jiu-jitsu gear.
Suit: CK from Nordstrom Rack; shirt: Suit Supply; tie: IKE Behar from Gilt; watch: IWC Portuguese from Torneau; socks: English Laundry; shoes: Gordon Rush.