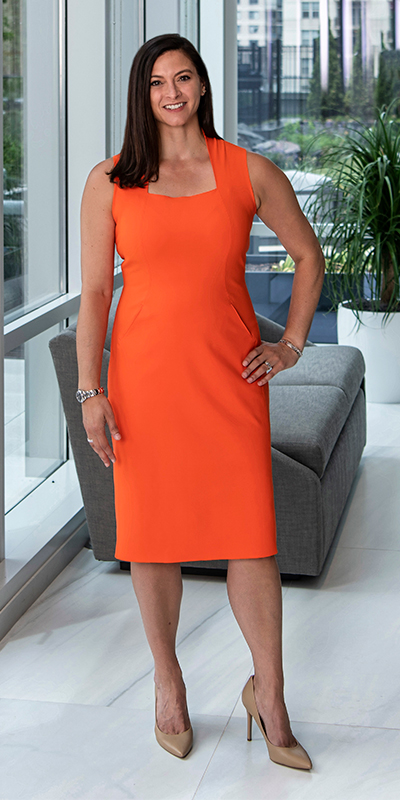 Jennifer Riccolo DeBower has been described by her clients as an honest broker, a trusted advisor, an excellent partner and even a force of nature. Riccolo DeBower, a real estate advisor with @properties Christie's International Real Estate, Riccolo Residential LLC, says her favorite part of the job is the relationships she builds with clients.
After a career as a litigation attorney and renovating an 1890s two-flat, Riccolo DeBower switched gears. "I started researching becoming a Realtor and fell in love with the matchmaking process. I haven't looked back," she says. "As a Realtor, I get to develop relationships with my clients and see how they want to integrate into their community and build their lives. I also get to see all the beautiful homes."
Her first career as a litigator makes her a passionate advocate for clients, a skilled negotiator and an excellent communicator. "My legal training, mindful view of real estate and approachable demeanor are just a few reasons my clients choose to work with me," she says.
Riccolo DeBower is smart, casual, approachable and direct — her goal is for clients to feel relaxed and informed throughout the buying and selling process. "I vet all deals from offer through closing so that my clients can focus on transitioning into their next home," she says. "I'm upfront about values and market conditions with clients and can push back to protect my clients' positions if any unforeseen circumstances arise."
She is a recipient of @properties' Road to Rolex Award, given to agents who sell more than $10 million in a year, and is a member of the Top Agent Network and the Chicago Association of Realtors. "I take my position as a cheerleader seriously. I want each of my clients to feel confident in their lives," she says. "Sometimes, all people need to step into their dream life is a partner to guide them. I'm here to usher them forward into the life they want while safeguarding their biggest financial decision."