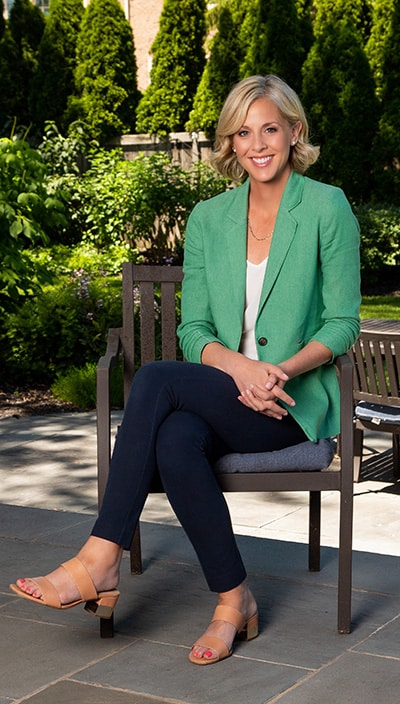 Real estate runs in Julie Cassin's family. Her father owns and manages over 70 apartments in St. Louis, while her husband works at a multifamily brokerage firm in Chicago. With her husband's encouragement, she left a teaching career to pursue real estate. "My experience as a teacher and then having my own children go through public, private and parochial schools in both the city and suburbs gives me great insight into the various options for families," she says.
A broker associate for @properties Christie's International Real Estate for seven years, Cassin began her journey in real estate in Lincoln Park before moving to the Southport Corridor and now settling in the North Shore suburbs. "The route we moved is so common among young families in Chicago," she explains. "I can be a great guide for people migrating north from a starter home to their dream home." Proud of the fact she transitioned her business while still maintaining a presence in the city, she understands the importance of staying connected to both markets.
In 2019, @properties Christie's International Real Estate recognized Cassin with the Road to Rolex award after she hit $12 million in sales. Now on target to sell over $18 million this year, she continues to set annual goals for herself. "I learn something new with every transaction, so I'm always getting better," she replies. "I enjoy building relationships with clients to help ensure a happy outcome in their quest for a home."
Describing herself as a very "type A" person, Cassin is known to help stage, declutter and refresh clients' homes before taking the perfect photos. She's accrued a tremendous amount of experience in construction and project management. "Between investment properties and home renovations, I'm very knowledgeable about the nuts and bolts," she says. "I can be a valuable adviser on home remodels." When not working, she enjoys participating in her kids' classrooms whenever possible and serving on the Women's Board at the Community House.