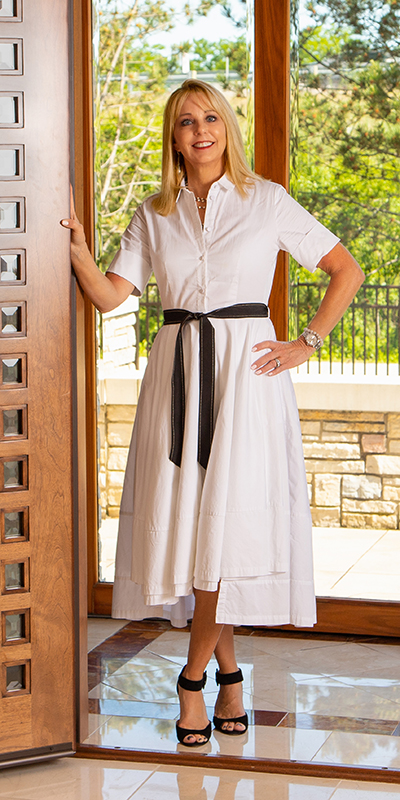 As a resident of the North Shore for over 30 years, broker Debbie Hepburn is both an expert on the area she serves as well as an extremely active member of her community. After working for a boutique real estate firm in Winnetka, Hepburn joined @properties Christie's International Real Estate in Glenview. In the six years since, she has become a top producer for the firm, and in 2020 was recognized for being in the Top 1% of sellers by the North Shore-Barrington Association of Realtors.
Prior to entering real estate, Hepburn worked extensively in the marketing and communications industry with Fortune 100 and 500 brands. "I have a passion for understanding what drives a person's thoughts and actions and for making connections," she says of her previous career. "This industry also satisfied my passion for creativity and developing new ideas. My understanding of consumer insights and behavior, along with a strong background in marketing and advertising, have been key to developing a strong strategy for buyers."
Additionally, Hepburn's experience working as a marketing consultant for the Julie + Michael Tracy Family Foundation for Young Adults with Autism fostered in her a love for helping people find housing. Between finding prime real estate locations, hiring builders for remodeling and furnishing the homes she found for the organization, Hepburn says, "I really felt like I was making a difference in the lives of many." Currently, she volunteers and serves on the boards of Misericordia Women's Auxiliary, JMTF Family Foundation, Skin of Steel Melanoma Foundation and Daughters of Ayacucho Educational Fund.
Whether she is serving clients or volunteering within the neighborhoods she loves, Hepburn measures her success by the positive changes she creates in her work. As she explains, "I measure my success not as a closed transaction, but on whether I was able to create a strong, long-lasting relationship." Hepburn is also an ardent lover of animals and spends her free time playing with her dog and helping animals in need.