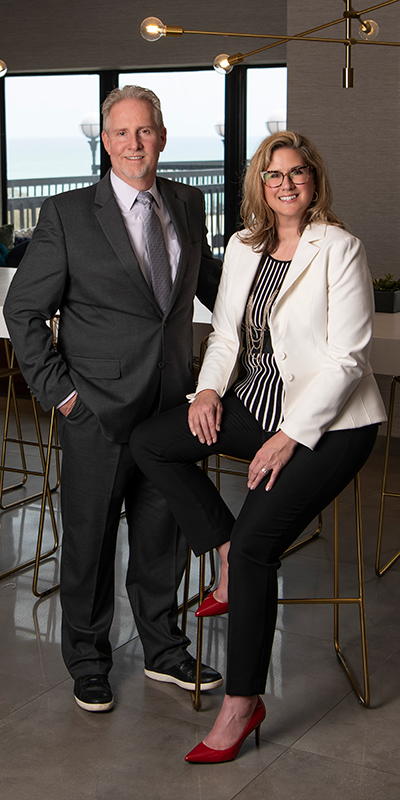 Who says love and real estate don't mix? Amy and Jim Foote met and married while in the industry. With 56 years of combined experience, there's no client they can't or won't help. They serve Chicago's northwestern suburbs and are familiar with all aspects of their diverse housing stock.
The Footes are no strangers to weathering storms. They kept business steady during the pandemic. "We kept our heads down and kept working. We did whatever made our clients the most comfortable." 2021 presented additional challenges. "We changed brokerages," they explain. "We opened our own office. We had always been warned that when you move, you can expect to lose 30 percent of your business … but we GREW our business by 11 percent." In 2022, the Footes became part of COMPASS's Legends Society, which recognizes the top 50 teams in Chicagoland with COMPASS.
The FOOTE Team is uniquely qualified to create effective marketing strategies for their clients. "We have a real diversity of thought," they relate. "We feed off each other and create better, brighter, smarter plans of action. And Jim's experience as a mortgage broker brings a really unique perspective to marketing homes."
Exceeding expectations helps the Footes rise above their competition. "We under-promise and way over-deliver," they share. Their vast experience is key to their success. "It's a wealth of experience that you can only gain from years in the business and years in all kinds of markets," they emphasize.
In business and in romance, opposites attract. "I'm the loud, goofy one, and Jim is the down-to-business, serious one," Amy says. "I keep things light, and Jim gets to the point. Jim and I are definitely opposites when it comes to management style. I get them excited and motivated, and Jim keeps them on track."
Her passion for real estate is evident to their clients. "I'm enthusiastic," she says. "I love real estate and it shows."