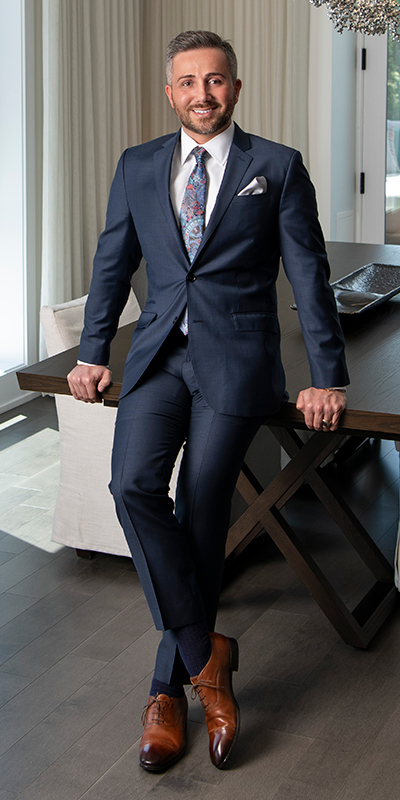 Recognized for providing full-service with an all-encompassing eye for detail, Mathew Milan Tarailo followed in the footsteps of his father, Neb Milan, who was a Realtor from 1968 until his passing in 2009. "I saw the drive he had for his clients and how they entrusted him," Tarailo shares. "Despite incurring the tremendous loss of my greatest mentor, I continue to push myself to be the best that I can be, not only professionally, but also personally."
Tarailo not only trained under his father, he also adopted his motto: "Our aim is your satisfaction," but with a small tweak: "Our aim is your satisfaction … move with Mathew."
A managing broker with @properties Christie's International Real Estate, Tarailo has been in real estate for 18 years. "I am proud to provide the most honest and transparent experience that is also refined and tailored," he explains. "My clients consistently express their recognition of how I strive to produce the best outcomes for their transactions." With his excellent negotiating skills and diligent follow-up process, he can spot property flaws before listing to ensure sales go smoothly. He also goes above and beyond for sellers with market and data analysis to make sure they receive the fullest sale prices possible.
A member of National Association of REALTORS® and Mainstreet Board of REALTORS®, Tarailo was named as one of the top 5% of Realtors nationally and closed $20 million in volume for multiple years with @properties Christie's International Real Estate. "I am persistent in making my listings show the best they can through careful preparation, including any necessary maintenance, repairs and staging," he says. With his excellent negotiation skills and awareness of time constraints, he continues to grow his business through 100% referrals.
"I have the pleasure of being involved in both my Italian and Serbian cultural backgrounds, which I treasure dearly through parish and community events," Tarailo shares. "I cherish time with family, loved ones and friends, including many of my clients." When not working, he enjoys cooking, gardening, fine dining and traveling.