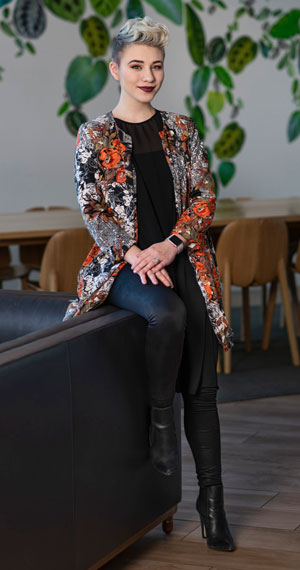 Number of years in real estate:
1.5 years
Describe your look:
My look is more edgy and chic when I am going out, while my day-to-day look is more athleisure. A big part of my look is my short pixie haircut.
What do you consider a "fashion don't"?
This question is hard to answer because so many "fashion don'ts" are now very fashionable! I say wear what makes you feel confident.
What is your favorite piece of clothing and why?
My favorite piece of clothing is my leggings. They are so versatile and go with everything!
What do you consider a must-have accessory?
Wearing my wedding ring and band and seeing them every day takes me back to the moment my husband proposed. It reminds me of how lucky I am to have someone who supports and loves me.
What is a fashion crime you have committed in the past?
Probably all of them — I love breaking the mold and doing my own thing!
Where are your favorite places to shop?
Truth be told, I raid my roommate's closet! She has all the hot — and haute — looks. I also shop at Nordstrom Rack, Uniqlo, Marshall's, TJMaxx, Target, and Lulu's online store.
What, besides your wardrobe, completes your look?
My make-up definitely completes my look. I obtained my cosmetology license when I graduated high school. I love being able to express myself through risque eyeshadow combos, strong eyebrows, fierce eyeliner and a bold lip!
My closet is full of…
Surprisingly, it is full of dresses! I have a bad habit of buying a new dress for every event I attend. It's often a reward to myself for working hard and getting to where I am.
Jacket: Harlowe and Graham; top: H&M Conscious; tank top: Wild Fable – Target; booties: Ava & Aiden; backpack: Timbuk2; clutch: Target