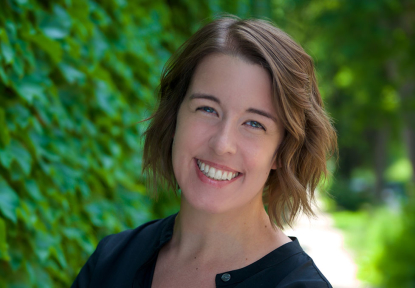 Where did you grow up? I grew up outside of the Kansas City metro area in Overland Park, Kansas.
Growing up, what did you want to be? I always wanted to be a business owner. In fact, as a little kid, I created a print shop and design business in our basement — unsurprisingly, foot traffic was low and sales were poor. My parents weren't interested in the up-charge on paper and ink inventory that they'd purchased!
What do you do to relax when you're stressed? Going to a movie or play, taking a yoga or kickboxing class, or having dinner and vino with friends helps me recharge.
Where is your favorite place to hang out? I love working at coffee shops — it's the perfect hum of activity, music and community while being able to zero in on productive work with few distractions. Ritual Coffeehouse in North Center is my go-to, but I have a favorite local spot in several different neighborhoods.
What do you love most about the industry? For me, it's an honor to get to serve others every day — to listen, to help guide and to connect with my clients so closely. As a business owner, I'm able to craft my systems and knowledge to then provide my clients my highest level of care. Plus, I get to enjoy the variety of Chicago communities every single day.
How do you distinguish yourself from the crowd of agents? My background before real estate was marketing and client service, so I put a real focus on technology and data for my clients. If we're selling your home, you'll know both objectively and subjectively how the marketing exposure and pricing strategy are delivering and how the market is moving. And if we're buying, I've ironed out a thorough system to organize the home search, negotiate the contract and provide clients a one-stop dashboard from contract to close.
What is the most difficult aspect of your job? The role requires a lot of discipline since there's so much freedom in the framework. To keep on track, I review progress against my business plan and monthly goals to ensure I'm staying focused and keeping the right plates spinning.
Where do you go to network and meet new clients? I love chatting with first-time buyers at open houses. I'm also a member of a professional networking organization that continues to expand my circle and strengthen the referrals I'm able to offer my clients personally and professionally.
What has been your greatest accomplishment? I'm really proud that I've been able to serve 27 families in their real estate decisions in the last 12 months. Sometimes it's wild to realize that I left the safety net of a salaried career, but diving into self-employment has been the greatest leap — no regrets.
What was the last good movie you saw or book you read? One of my favorite events of the year is the Chicago International Film Fest, and I saw seeing eight screenings last year! One recent film fest favorite was "Oh, Lucy!" a dark comedy and self-discovery film about a Tokyo woman who discovers an alter-ego in an English class. Josh Hartnett plays the kooky English instructor. Please go see it and report back!
Architecturally speaking, what is your favorite building in Chicago? I'm thrilled the CTA has restored the 1920s Gerber Building in Uptown's Wilson Avenue station, which was designed in the Beaux-Arts style. This building used to be the station terminus and waiting hall when Uptown was the end of the line. It will soon be home to Chicago Market, a grocery co-op where I'm a member-owner and served on the board. Like several Uptown buildings, the space has an incredible beginning, a storied history and, with this renaissance, an exciting future ahead.
What kind of car do you drive? My mobile office is my Mazda, which I drive most days. In the summer, I'll take the Vespa out to appointments if I'm not driving clients.
What is your favorite city after Chicago? I lived in London and New York before making Chicago home, and both are definitely favorite destinations.
In 10 words or less, what is your advice for someone new to the industry? Remember that you're here to serve others, and the rest falls into place.