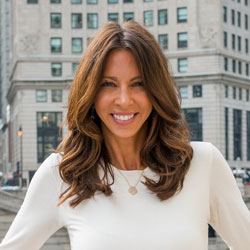 What was your first job in the realty industry? Sales at a new construction building called Madison Manor in the West Loop back in 1999!
Where did you grow up? Lake Forest.
Growing up, what did you want to be? A dentist.
What do you do to relax when you're stressed? Call my friends. I have a great circle of friends that are extremely supportive and funny!
If you could have lunch with a well-known figure (living or not), who would it be and why? Stephen Colbert or John Oliver. If I could sit with both of them, I would be in heaven.
Where is your favorite place to hang out? My home. I love where I live, and I have decorated my home exactly the way I want to live.
What do you love most about the industry? I love exploring all the architecture that Chicago has to offer. Every day is different. I meet such interesting people, I get to view amazing properties and I help people purchase the home of their dreams. What else could I ask for?!
How do you distinguish yourself from the crowd of agents? I work 24/7. I have an incredible work ethic, and I truly give 110 percent each and every day. I like to work with "off-market" properties. I like the hunt of finding properties that have not hit the MLS yet. Also, I have a design background, so I have a great eye for staging homes and making sure the photos are picture perfect.
What is the most difficult aspect of your job? There is not enough time in the day. I like to answer my phone every time it rings, and I like to answer emails and texts as soon as possible. It is hard to manage the amount of info coming in.
Where do you go to network and meet new clients? My kids' schools, dinners with friends and community events.
What has been your greatest accomplishment? Having happy clients. It's not easy to make everyone happy in our business, but I have done a great job providing exceptional service, which makes my clients happy.
What was the last good movie you saw or book you read? "Freakonomics."
What is your favorite restaurant? One of my favorites is Fig and Olive. I just love the atmosphere and the food is delicious.
Architecturally speaking, what is your favorite building in Chicago? Merchandise Mart.
What kind of car do you drive? Porsche.
Smartphone or paper? Smartphone.
What is your favorite city after Chicago? New York.
In 10 words or less, what is your advice for someone new to the industry? Network with your sphere.
What's your favorite real estate iPhone/Android app? The @properties app or Homesnap.
Who are your favorite people to follow on Twitter? I don't use Twitter. 🙂