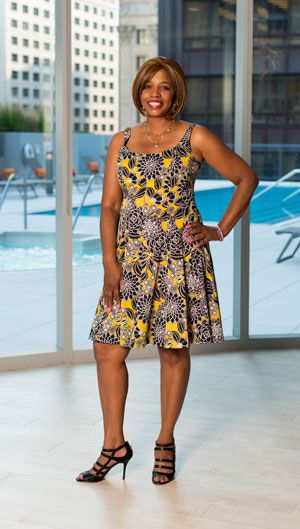 Number of years in real estate: 15
Describe your look: Chic, with classic lines, bold colors and the occasional funky printed pants.
What do you consider a "fashion don't"? Not dressing appropriate for your age or the occasion.
What is your favorite piece of clothing and why? I am a huge boot girl because they are very versatile and sexy.
What do you consider a must-have accessory? Gold hoop earrings and lipstick.
What are your favorite places to shop? Specialty boutiques, as well as DSW, Marshall's and TJ Maxx. Lots of selection with modest prices.
What, besides your wardrobe, completes your look? My confident walk and my friendly smile.
What is in your bag/briefcase? Pepper spray, a three-ring notebook and my cell phone.
My closet is full of…Shoes and coats.
Shoes: Michael Kors; Dress: Calvin Klein