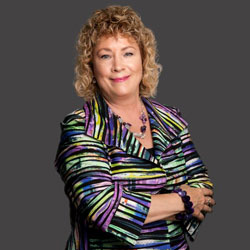 What was your first job in the realty industry? Realtor. I was formerly a real estate paralegal and then managed a real estate law firm.
Where did you grow up? Rogers Park.
Growing up, what did you want to be? Work in the legal industry.
What do you do to relax when you're stressed? Work out, walk my dog, listen to music.
If you could have lunch with a well-known figure (living or not), who would it be and why? Rahm Emanuel. I would like to get his perspective and thoughts on the future of real estate in Chicago.
Where is your favorite place to hang out? Concerts and my back yard.
What do you love most about the industry? The ability to make people's dreams come true. It is very rewarding to find the perfect home for buyers and share their excitement. It is also very rewarding when I sell a seller's home quickly for a great price so they can move on to the next chapter in their life.
How do you distinguish yourself from the crowd of agents? I give personal attention to my clients. I attend all showings for sellers, which gives me the ability to provide immediate feedback. Sellers also appreciate that I am taking good care of their home. I listen very carefully to buyers' wants and needs, which enables me to find the perfect home for them.
What is the most difficult aspect of your job? Pricing properly. I don't work with unrealistic sellers. I expect to have my listings go under contract quickly, so I price well. Buyers need to be educated on pricing as well.
Where do you go to network and meet new clients? I am a board member at three local organizations. I constantly network with my peers at local community events and meet with our local business owners.
What has been your greatest accomplishment? Achieving one of the top criteria qualifications for sales and volume.
What was the last good movie you saw or book you read? "Dunkirk."
What is your favorite restaurant? Mia Figlia in Edgebrook.
Architecturally speaking, what is your favorite building in Chicago? Chicago Theatre.
What kind of car do you drive? Nissan Murano.
Smartphone or paper? Smartphone.
What is your favorite city after Chicago? Milwaukee.
In 10 words or less, what is your advice for someone new to the industry? Network, and contact all of your friends and ask for referrals.
What's your favorite real estate iPhone/Android app? Docusign.
Who are your favorite people to follow on Twitter? Local businesses.