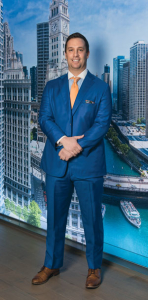 Number of years in real estate: 12 years
Describe your look: Neat, clean and conservative
What do you consider a "fashion don't"?
Black shoes. They remind me of growing up in my high school and college years as everyone wore them on the weekends to go out.
What is your favorite piece of clothing and why?
I created a custom-fit Cubbie Blue suit with a gold interior jacket that I'm wearing now. Blue is my favorite color and I wanted something different.
What do you consider a must-have accessory?
I like wearing suit coats with interior pockets so I can stay organized with keys, phone and wallet
What is a fashion crime you have committed in the past? I was wearing a Cubs jersey during the World Series run with my tropical Florida shorts. I heard two girls that were driving by comment about me not matching, and I laughed to myself and thought it was pretty funny. I was reminded quickly that it didn't match. It was amusing but certainly made me not make that mistake again. Let's just say I left those shorts in Florida.
Where are your favorite places to shop?
Banana Republic
What, besides your wardrobe, completes your look?
I appreciate a good pair of sunglasses.
What is in your bag/briefcase?
I go without a bag. My first job out of college I was a financial advisor on LaSalle Street in the Financial District and everyone would have a bag. It was essential to have one. However, I would have to carry it out if we went out after work. It was like babysitting having a bag the entire night out. After lugging a bag around and having to keep an eye on it, I ditched it and try to be as light and mobile as possible now. However, I've seen some really nice ones — but like the freedom of traveling without one.
My closet is full of…
Banana Republic sweaters and lots of new pairs of socks
Clothing: Allen Edmonds shoes, Banana Republic belt, socks, and shirt, suit designed by Tom James clothing featuring Holland & Sherry cloth.