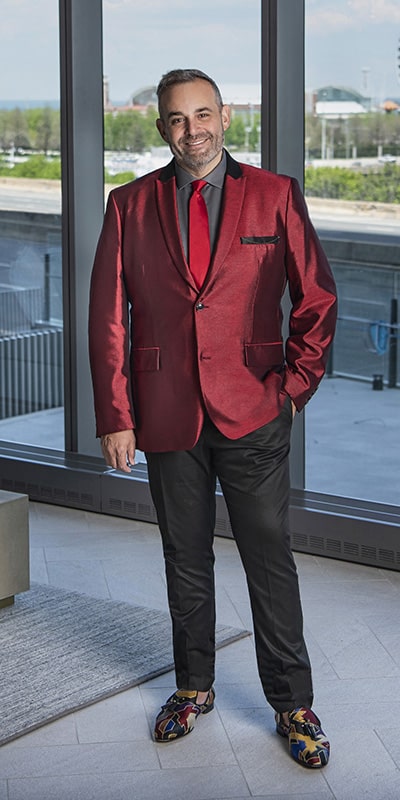 The Chicago LGBTQ community's go-to guy for home financing, Shimmy Braun is a creative force in the lending industry. As a senior loan officer at Guaranteed Rate, Braun is licensed to handle mortgages in all 50 states and specializes in conventional, FHA, VA and jumbo loans for all buyers and investors. His motto is "humanizing the mortgage industry since 2000." While using Guaranteed Rate's market-leading technology, Braun still recognizes the humanity in every individual he works with — customers, Realtors and referral partners alike.
With 22 years of lending experience, Braun ranks among the top 200 mortgage originators in the U.S. and is recognized as a top originator by Scotsman Guide Media. After coming out as gay 10 years into his career, Braun found a new client base in Lakeview, North Halsted and Andersonville. He's since leaned into his identity, creating billboards featuring drag queens with clever taglines like "Don't drag out your mortgage." He and his team together have over 100 years of experience in the industry.
To start a transaction, Braun gives his clients a crash course in mortgages, ensuring they have a clear understanding of the process. Making himself constantly available for customers and Realtors, Braun abides by the principle of loving your neighbor as yourself. "People frequently tell me," he notes, "that I took the time to help that other lenders hadn't."
Braun is co-founder of Guaranteed Rate's LGBTQ organization PROUD and is the LGBT Chamber of Commerce of Illinois' ambassador to the organization.
Guaranteed Rate, Inc. is a private corporation organized under the laws of the state of Delaware. It has no affiliation with the U.S. Department of Housing and Urban Development, the U.S. Department of Veterans Affairs, the U.S. Department of Agriculture or any other government agency.