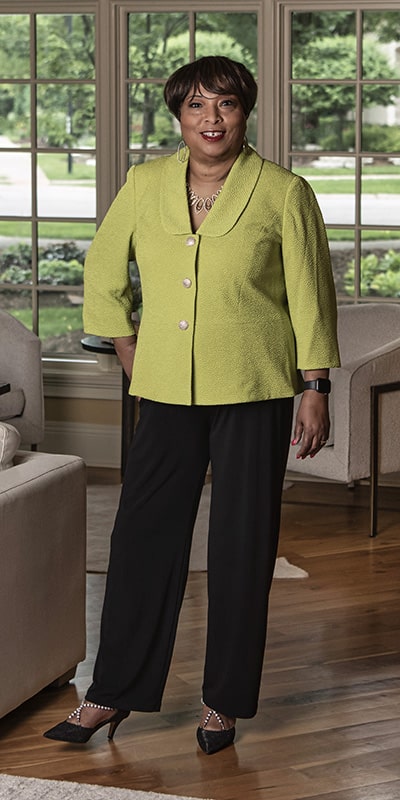 A native of Chicago's South Side, Natalie Carpenter worked in credit, collections and customer service management for a decade after college before delving into real estate. A strong desire to work independently drew her to the industry, and the perk of unlimited potential earnings to help her build generational wealth was an added plus. Fast-forward more than three decades, and she now directs a team of branch managers as part of her firm's senior leadership. "I believe my previous experience and success as a branch leader inspires my team and brings more credibility to my coaching and support," she says.
Carpenter serves residential clientele in Chicago and its south-suburban communities. A skillful problem-solver, she finds no challenge too big or too small, as she is known as engaging and supportive by her colleagues and clients. Ensuring at all times that her team has the resources necessary for their highest empowerment, she strategically "leads the leaders" so they can steer their branch offices in optimal alignment with the company's values and vision. "Working with me is different than working with a lot of other senior leaders because I have the experience and the long-term success to provide the best guidance," she has been told.
A recipient of multiple national sales and performance awards from Coldwell Banker, Carpenter also received the Phenomenal Woman award from the Expo for Today's Black Woman. Recently, in 2021, she received the Agnes Latimore Lifetime Achievement Award from Champagne Closings. Additionally, she counts the promotions of seven branch leaders in her purview to managing broker or branch vice president among her recent successes.
As a result of her breadth of industry knowledge, Carpenter has been tapped for multiple public speaking engagements and featured on a few business podcasts. "I am enjoying this," she says. An active volunteer and board member of several organizations, Carpenter also enjoys spending time with her husband, son and 1-year-old grandson, who she affectionately refers to as "Nugget."