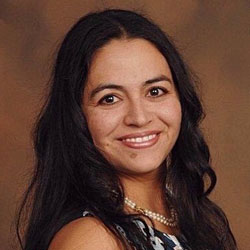 What was your first job in the real estate industry?
I was a landlord early on, buying my first investment property at age 25.
Where did you grow up?
I grew up in Caracas, Venezuela. At the age of 24 I moved to the U.K. and since I have lived in four different countries on three continents!
Growing up, what did you want to be?
I always wanted to travel, and thought about becoming a diplomat or marine biologist. But marketing was the industry that caught my interest.
What do you do to relax when you're stressed?
If I can, I like to go to a place close to water and sit and let my mind wander.
If you could have lunch with a well-known figure (living or not), who would it be and why?
Can this be a group lunch? I would love to sit down with Nelson Mandela, Mother Teresa and Richard Branson.
What do you love most about the industry?
I truly enjoy getting to know people and being able to help them find their dream homes. The flexibility and the fact that I get to see houses every day are also big bonuses!
How do you distinguish yourself from the crowd of agents?
My 20 years of marketing and negotiation expertise as well as being able to relate to my clients' situation on a personal basis sets me apart. Having moved 23 times in my life, including international and U.S. relocations, and being a real estate investor allows me to say, "been there, done that" to almost every single scenario my clients find themselves in.
What is the most difficult aspect of your job?
I find it hard to switch off. I work 24/7 and I can't help it. I am very passionate about this business and sometimes I let it take over.
Where do you go to network and meet new clients?
I love doing open houses as well as being involved in my kids' sports and my neighborhood.
What has been your greatest accomplishment?
Being able to support and raise my two kids while working full time and not losing sight that they are my upmost priority and the ones that make life worth living for.
What was the last good movie you saw or book you read?
The Lost Soul Trilogy by Deborah Harkness and The Outlander Series by Diana Gabaldon have been one of my favorite books ever
Architecturally speaking, what is your favorite building in Chicago?
I love the Harold Washington Library building on State Street. The roof is just spectacular.
Smartphone or paper?
Definitely paper!
What is your favorite city after Chicago?
London or Boston are both tied up there.
In 10 words or less, what is your advice for someone new to the industry?
Work your plan; don't give up! You can do it.