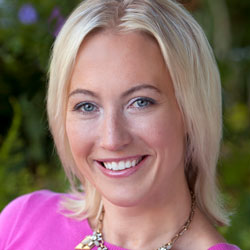 What was your first job in the realty industry? I have a background in marketing and interior design, which led to real estate.
Where did you grow up? Lake Forest, Illinois.
Growing up, what did you want to be? I wanted to work on ads and commercials, and I was able to at Leo Burnett early in my career. That taught me how to market my listings.
What do you do to relax when you're stressed? I don't stress very much, but I love to listen to music and go to concerts. I also enjoy working out and heading to the beach.
If you could have lunch with a well-known figure (living or not), who would it be and why? It would be with my dad who passed away too soon. He always lived for the moment.
Where is your favorite place to hang out? I love to hang out on my friend's couches or head to the city.
What do you love most about the industry? All of the amazing people I work with and meet every day.
How do you distinguish yourself from the crowd of agents? Every agent is unique in what they offer. I just like to make selling or buying a fun and enjoyable journey.
What is the most difficult aspect of your job? I don't focus on difficult. There is always a way to make it positive.
Where do you go to network and meet new clients? I don't intentionally network. I just enjoy meeting new people and I especially love meeting friends of friends.
What has been your greatest accomplishment? Every time someone refers me to a friend or family member, it's the greatest compliment of all.
What was the last good movie you saw or book you read? I am that person who flips through Netflix over and over. Need recommendations!
What is your favorite restaurant? Pizza House in Ann Arbor, Michigan. Love the Chipati salad in a pita. Go Blue by the way!
Architecturally speaking, what is your favorite building in Chicago? I studied it all at design school. Chicago is amazing. I do have a soft spot for the Burnett building though.
What kind of car do you drive? I have a car for my three boys: a big Lexus. And I have a 2000 black manual Jeep Wrangler Sahara.
Smartphone or paper? I use both. But I have a retro 1980's sticker book planner with old school roller skates on the front. Amazing!
What is your favorite city after Chicago? Ann Arbor. But I love so many! Breckenridge, Captiva, Sienna in Tuscany. I love to travel.
In 10 words or less, what is your advice for someone new to the industry? Work hard, play hard and live life with ease and grace.
What's your favorite real estate iPhone/Android app? The Lighter Side of Real Estate.