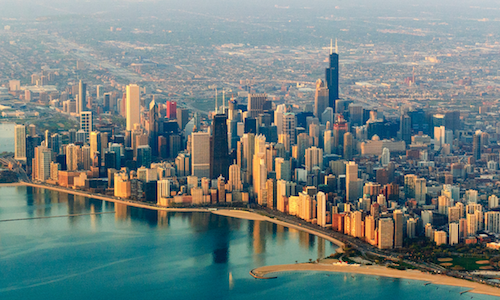 The city of Chicago was named the best city to live in the U.S. in the 2018 Readers' Choice Awards by Conde Nast Traveler. Chicago beat out 15 other large cities, including New York and Los Angeles.
"Second city? Not by our count. Chicago is world-class in so many categories – magnificent architecture, stunning museums, brilliant chefs, a massive brewing scene and so much to do that you'll never see it all," Conde Nast Traveler editors Caitlin Morton and Katherine Lagrave wrote.
The best cities were voted upon by Conde Nast Traveler readers. Because of the high number of votes, the award category of best U.S. city was split into two categories. Narrowing down by population, the two categories were best U.S. city with a population under one million and best U.S. city with a population over one million.
In other news:
Cook County was named one of the top 20 fastest moving luxury markets by Realtor.com. Luxury homes stayed on the market for just 65 days, which is 3.2 percent faster than last year. Nationally, luxury homes are staying on the market around 121 days, which is down nine days or 6.9 percent from last year.
Illinois Premier Homes announced that the firm will join Century 21 System. Renamed as Century 21 Premier Properties. The 35-agent team joins a network of 122,000 agents.
Realtors Vicky Sampah and Maurice Hampton recently finished their four-day event in West Accra, Ghana. As the consulate liaison for Rwanda, Sampah was responsible for helping organize the event. Hampton, the NAR vice chair, instructed some of the courses. These courses included a Realtors code of ethics course, understanding global markets and using social media.
The real estate companies of Vesta Preferred and Newman Realty recently merged as RNP Realty Group. The team of 35 Realtors will be lead by Scott Newman, Grigory Pekarsky and Brad Robbins. "I'm beyond excited to partner with two incredible people that I look up to as fathers, husbands and professionals," Scott Newman, cofounder, said.