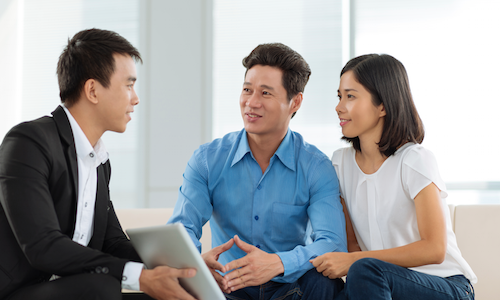 As the real estate world becomes more digitally focused, homebuyers are leaning on tech and online tools during various points in the homebuying process. Whether it be looking at homes online or applying for loans, buyers are expecting digital options to be part of the process.
A new study from Ellie Mae found that the majority of respondents across all generations expected to be able to apply for and complete a mortgage application fully online. In fact, 93.1 percent of homeowners said technology somewhat or very much improved the loan process.
"Digital mortgage technologies and capabilities are available in the mortgage industry today," Ellie Mae said in the report. "Lenders that use them to their fullest potential will be able to focus on high-value activities, such as growing their business and delivering personalized service to borrowers."
All ages are moving toward digital applications
The percentage of homeowners who applied for their last mortgage in person dropped from 56 percent in 2016 to 44.7 percent in 2017. Baby boomers were most likely to apply fully in person at 55.0 percent, but the percentage of them that are moving toward online options is growing. Last year, 30 percent of boomers used a combination of online and in-person steps while 13 percent applied fully online.
"Baby boomers, like millennials and Generation X borrowers, are looking for a digital mortgage experience," said Joe Tyrell, executive vice president of corporate strategy at Ellie Mae, "Our Connecting with Borrowers Online survey showed that for boomers, online portals made the biggest difference in a positive view of technology, with 79 percent stating that technology improved the loan process versus 49 percent for millennials."
Convenience, speed top factors behind digital applications
More than a third of homeowners said that the convenience of applying online at their own pace and time of day was the most important reason when selecting how to apply for a loan. Specifically, 23 percent preferred the simplicity of the process, while 22.5 percent enjoyed the speed and 19.4 percent said the convenience appealed to them.
However, security continues to be a top concern when it comes to online applications as a significant amount of sensitive information is included in loan applications. Nearly half of homeowners said they were concerned about entering their information online (46.5 percent). While some may assume older generations would be the most concerned with security, 40 percent of millennials actually named it as their top concern compared to only 29 percent of Gen Xers and 22 percent of baby boomers.
"The trend toward online is a great opportunity for mortgage lenders," Tyrell said. "As lenders embrace a true digital mortgage, borrowers will get the benefit of both a high-tech process to make things go faster, and a human-touch experience, providing transparency and building their confidence."
Renters continue to have concerns about financing
While homeownership continues to be a priority for many people across the country, current renters continue to show concerns about finances and have misconceptions about what is needed to qualify for a loan.
The top reason given by renters as why they have not purchased a home yet is that they believe they have not saved enough money (28.7 percent), followed by 26.5 percent being happy renting. Finances are a common thread through many reasons given, with 12.2 percent concerned about debt and credit worthiness, 9.2 percent worried about the economy or their job and 5.7 percent thinking that interest rates are too high.
"Surprisingly, almost half of the renters surveyed said that they thought they needed to put down a larger down payment than necessary to be able to purchase a home," Tyrrell said. "With the range of loan products available today, including FHA loans, this simply is not the case."