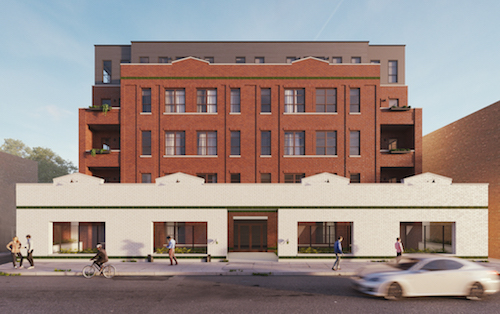 Wilshire Homes Development and @properties announced the beginning of sales for a condominium building in Ukrainian Village. The Boulevard will be located at 1938 W. Augusta, just east of Damen Avenue. 
The property itself has historical significance to the neighborhood. Pure Daily Products was located on the property as a 1920s-era building that had the only Ukrainian dairy in the city. Recently, the property was most commonly known as Leona's Italian restaurant.
Space Architects + Planners worked with Wilshire to develop a plan to build a 14-foot-wide landscaped courtyard that will separate new five-story red brick building from the existing white tile structure.
Brianne Bishop, a Chicago-based designer, will select the interior finishes. According to the press release, Bishop's designs blend modern features with the building and neighborhood's historic character.
"This is an opportunity for homebuyers to not only live in a location with a rich history, but also to enjoy the most sought-after new-construction finishes and luxury amenities. It's new construction with character, and that's something you don't find very often," said Wilshire Homes Development's Stan Bernshteyn.

The Boulevard will house 16 condominiums with base prices starting at $700,000. First deliveries are set for May or June of 2019.