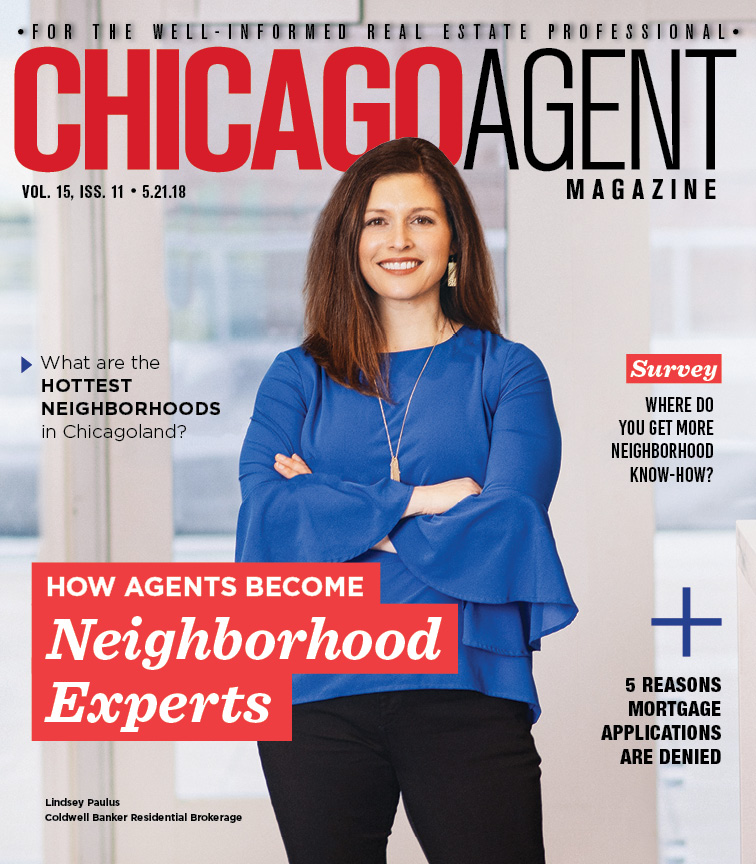 When laypeople discuss the Chicago housing market, they mostly take a thousand-foot view of the issue and discuss the market as a whole. Studies and data sets mostly look at the metropolitan statistical area, which includes Chicago to Joliet and everywhere in between. But agents know that most buyers or sellers aren't looking at homes over such a wide swath of land. They drill down to an area, a neighborhood or a suburb to begin their search.
"If someone has never been to Chicago, they'll probably still have a few recommendations, people saying you should live in this neighborhood or that suburb," says Matthew Engle, broker with Fulton Grace Realty. "Typically after the first day of home searching, they're going to know a neighborhood or two where they want to live."
Because Chicagoland is known for its diverse and eclectic neighborhoods, good agents speak intelligently about the differences and unique opportunities they provide. Some agents have a specialty or a geographic concentration, and are an expert on a specific area. And that's exactly what agents are selling — expertise in the home buying and selling process and in the area they work.
"It's good to focus on an area you know very well," says Engle, whose transactions are mainly focused in the Near North Side neighborhoods of Old Town, Gold Coast and River North. "It's repetition over time. You can always do an MLS search and find places, but it's a different, intimate knowledge that lets you focus on what the client's needs are."
Here's how agents can master the Chicago area's web of neighborhoods and suburbs, and how focusing on one area can make all the difference.
Live where you work,work where you live
For most agents, the decision of where to concentrate their work is an easy one: generally, it's the place where they already live.
Lindsey Paulus, broker with Coldwell Banker Residential Brokerage, grew up in suburban Western Springs before moving to nearby La Grange as an adult. So when it came time to pick a concentration, there wasn't really any other consideration, she says. The job allows her to talk passionately about her hometown, which is something clients like to hear, Paulus says.
"Everybody wants to feel that they're working with an expert," she says. "My favorite thing to do is open houses because I love talking about our neighborhood. People just light up when they hear that. When I market myself as someone who lives there, whose children go to school there, then their confidence level is amped up."
Choosing to work in your hometown isn't enough. Paulus says you have to be more strategic than that. She makes sure to market herself as the foremost expert and No. 1 agent in the Country Club neighborhood of La Grange. "If I send out mailings that are Country Club specific, they wouldn't be able to get that anywhere else," she says. "You can't just look that up online. If I really tailor it, people would take notice and be interested. That's been my strategy from the beginning."
Engle has lived in Chicago for seven years and has been in real estate for about half of that time. He decided to focus his efforts on the Near North Side, paying for online advertising in the area and working to learn everything he can about his adopted neighborhood.
Being such an expert can impress clients and can even answer questions they didn't know they had.
"Living there, it helps greatly," he says. "You're able to talk about concerns that people may have if they've never lived in the neighborhood. You can address everything. It's the things you've dealt with everyday, things like street parking."
---
Also in this issue:
The next wave of hot neighborhoods in Chicagoland is…
Chicagoland neighborhoods rank high in national homeowner surveys
Survey: Chicagoland agents get a neighborhood feel
---
How clients choose neighborhoods
Each Chicago-area neighborhood has something different to offer, and each client has different preferences for what they want in a neighborhood. The trick is to mend those two things together to find a perfect fit, says Karen Schwartz, co-founder of The Laura McGreal and Karen Schwartz Group with Dream Town Realty. Knowing which neighborhood offers what is the first step to solving this puzzle, she says.
"All buyers are at a different life stage," she says. "If they have children, schools may be the No. 1 driver. First-time buyers who don't have cars, then public transportation is No. 1."
Of course, price is a big barrier to entry in some of Chicago's submarkets. But agents with an intimate knowledge of their specialty area will be able to make suggestions that might keep clients in their preferred area.
"A lot of buyers start by wanting to live in the hot neighborhoods, the West Loop, River North, Wicker Park, those places," Schwartz says. Schwartz leads the downtown team while her partner, Laura McGreal, leads the suburban office. "You see people wanting to live in the city to have a walkable lifestyle and be close to the city but not pay crazy prices. So they'll sacrifice a little bit of distance and maybe look at North Center or Irving Park."
Knowing how much a buyer intends to spend and what kind of home they're looking for can quickly narrow down neighborhoods, Engle says. "They really have to figure out their price point and that's kind of going to determine the neighborhood," he says. "Some clients want to be on a quiet, tree-lined street. There's some clients who know they want to live in a high-rise building. It quickly limits where they want to live."
And where do you turn if their preferences and budget point them to an area that's not in your specialty? Paulus said it's helpful to be up front. Pointing clients to online databases and review sites can help.
Showing a willingness and a hustle to learn as much about a new area as possible helps with clients. Bringing in another agent can help, too, but often that can muddy the waters, Paulus says.
"I share whatever insider information I have," she says. "I tell them, 'I don't live there, it's not first-hand knowledge. But let's go check it out, go see some houses and look at the stats.' If I really feel like I can't navigate their purchase, then I bring in someone else who can. Oftentimes, I find a buyer just wants one point of contact, so they end up working with me on those towns as well."