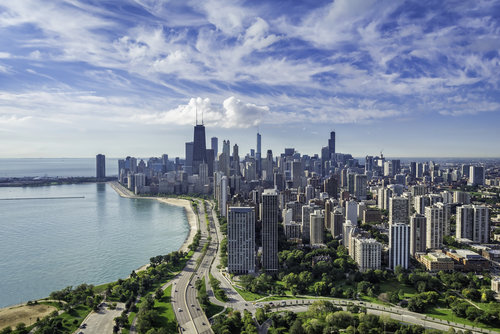 Chicago is a city of neighborhoods, and which ones are considered "hot" can change like the Chicago weather.
Because some of the city's most well-known neighborhoods (Lincoln Park, Wicker Park) are nearly maxed out on room and price, there's been a boom of building interest in the surrounding, more far-flung neighborhoods. There is some exciting things happening in those areas already. Consider that 13 of Redfin's 25 neighborhoods that "have it all" in 2018 are in the Chicago area, including Oak Park and Evanston.
Here are some of the Chicago-area neighborhoods that are on the upswing, according to our experts.
Cabrini Green
What was once the location of one of the most notorious public housing facilities in the country is now seeing an influx of development and young families. There's already a Target and a few high-rises, but the exciting aspect is that there is still land to develop, says Matthew Engle, broker with Fulton Grace Realty. "We're going to see that area explode," he says. "It kind of already has, but there's still a lot of potential there."
Lower West Side
The West Loop has been a hot area for commercial and residential development in recent years, with McDonald's and Google both relocating to the neighborhood. Now, the surrounding areas are beginning to see a boom, Engle says. That means big things are in store for University Village (home to the University of Illinois-Chicago), Little Italy and, just to the west, the Illinois Medical District. "It's starting to catch up in value and you're starting to see new development," Engle says.
Avondale
While much of the developer focus has been in neighboring Logan Square, Avondale has quietly become the place for families looking to stay in an urban setting but also own their own home, says Karen Schwartz, who heads up the downtown office for the Laura McGreal and Karen Schwartz Group. "It has some really good housing opportunities and some room to grow," she says. Prices are affordable now, especially compared to Logan Square."
West Town
What makes West Town such an appealing option for local homebuyers? The central location is perhaps the most attractive aspect, says Schwartz, and its abundant schools and successful local businesses are features that help set it apart from other neighborhoods. "There are a lot of great shops now," she says. "You're close to the West Loop and River North, but the prices aren't as high as those neighborhoods."
78th Neighborhood
Related Midwest has unveiled plans for its 78th Neighborhood development near the South Loop. Its name references Chicago's 77 neighborhoods and signals that the development will be a city within a city. Over 10 million square feet of residential, office, hotel and retail space will inhabit the 65-acre plot south of Roosevelt Road by the Chicago River. Construction could begin next year, but the project likely won't be completed for a decade.