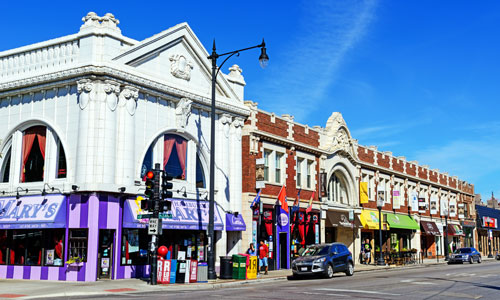 Chicago is one of the rare major housing markets in the country that hasn't seen an explosion in price and dip in inventory that many large coastal markets have. That's not the only thing going for the local housing market, which is now home to half of the country's neighborhoods that "have it all", according to a study by Redfin.
The online housing data giant analyzed neighborhoods in 80 major U.S. markets to see which ones had all of the following: affordability, strong demand for homes, good schools, adequate transportation and low crime rates. It only found 25 neighborhoods that fit the criteria, and of those 25, 13 are in Chicagoland. (Campustown in Urbana-Champaign also made the list.)
"More than half of the neighborhoods on the list are in the Chicago area, the rare major metro area that has remained relatively affordable and has largely bucked the severe inventory shortage trend seen across much of the country over the past few years," Redfin's study says.
Chicago-area neighborhoods took up nine of the top 10 spots in the ranking. Coming in at No. 1 is Dunning, the far-flung North Side neighborhood that has affordable homes, a low crime rate and a large number of homes for sale.
The majority of Chicagoland neighborhoods included in the list are on the Northwest and Southwest sides, which have an abundance of available homes at relatively affordable prices. Wrigleyville is the most central neighborhood to make the cut.
While Chicago's crime problem is often touted as a scourge that hurts the city's global standing (not to mention its housing market), the city neighborhoods included all have lower crime rates than the other neighborhoods on Redfin's list.
Andersonville has the highest crime rate of any Chicago-area neighborhood included, but it is still lower than rates in other neighborhoods on the list, including those in Houston, Dallas, Fort Worth, Cincinnati, Cleveland, Miami Beach and Birmingham, Alabama.
The only thing detracting from the Chicago neighborhoods included is the tax rate. Illinois homeowners are likely to be impacted by the new federal tax law, which caps local and state tax dedications at $10,000. Many Illinois residents, especially homeowners, pay more than that, meaning their federal tax bill will likely be higher next year.
Redfin suggests that Chicago buyers set aside 2 percent of a home's sale price for local taxes. And while that may be difficult for some homeowners, Chicago's high-tax status is indicative of its world class stature, Redfin says.
"These are the same taxes that help the city maintain a world-class transit system and help schools rank highly, so it's a necessary evil and a big reason why so many Chicago ZIP codes made the cut," Redfin says.