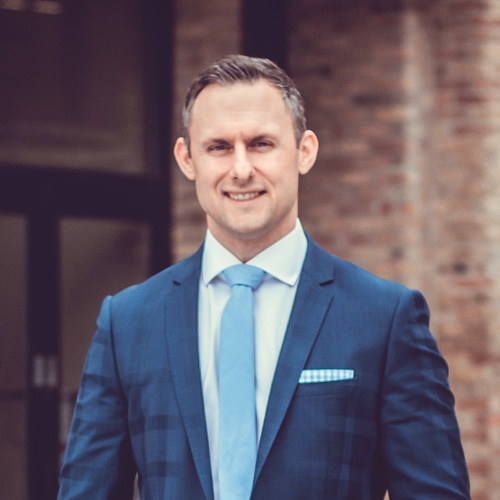 What was your first job in the realty industry? Buyer's agent at Keller Williams.
Where did you grow up? South suburbs of Chicago.
Growing up, what did you want to be? Professional hockey player.
What do you do to relax when you're stressed? Read, smoke a cigar, drink a good single-malt Scotch.
If you could have lunch with a well-known figure (living or not), who would it be and why? Elon Musk. I would love to see in person how his mind works and how he operates at such a high level with all that he is creating.
Where is your favorite place to hang out? My back deck during a sunset.
What do you love most about the industry? The amazing people I have met and continue to meet and learn from on a daily basis.
How do you distinguish yourself from the crowd of agents? My professionalism, knowledge, work ethic, incredible personality and dedication to our amazing industry.
What is the most difficult aspect of your job? Taking all of the knowledge I have acquired over my career and simplifying it to teach it to new agents in a way to not overload them.
Where do you go to network and meet new clients? Most of my business is through referrals now. But social media has been a big boost to my business.
What has been your greatest accomplishment? Opening up my own brokerage.
What was the last good movie you saw or book you read? "The Power of Broke" by Daymond John.
What is your favorite restaurant? Swift & Sons.
Architecturally speaking, what is your favorite building in Chicago? I love graystone and brownstone buildings!
What kind of car do you drive? Lexus IS 300 F Sport.
Smartphone or paper? Smartphone.
What is your favorite city after Chicago? Boston.
In 10 words or less, what is your advice for someone new to the industry? Read, find a mentor, market to your database, and grind!
What's your favorite real estate iPhone/Android app? TruePad.
Who are your favorite people to follow on Twitter? Elon Musk, Gary Vaynerchuk, Tony Robbins, Mark Cuban, Dwayne Johnson and Chicago Agent magazine.