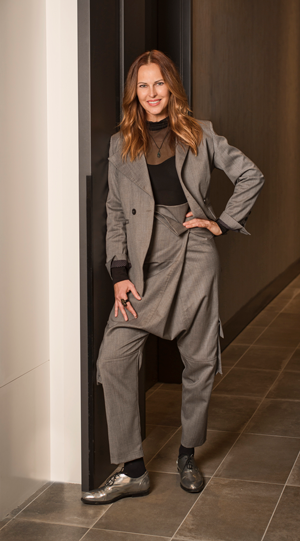 Number of years in real estate: 14
Describe your look: Professional yet edgy, and fashion-forward with my own styling.
What do you consider a "fashion don't"? I say be different and be creative. Fashion is constantly changing, so just find your style and be unique.
What is your favorite piece of clothing and why? I don't have one. I like asymmetric lines and not very traditional styles. So if it's comfortable and edgy, it's my favorite.
What do you consider a must-have accessory? Anything that goes on my head, from hats to scarves. Scarves especially, because you can wear them in so many creative ways.
What is a fashion crime you have committed in the past? Sometimes I find an item that I just adore and don't want to let go. It's not always a great idea, since fashion changes often, but you can still find me wearing it. Now I've learned to just let the trends change and to go with the style flow.
Where are your favorite places to shop? Most of the time I buy shoes in my home country, Lithuania. Clothes wise, I try and find new and up-and-coming European designers, and order from them or when I travel in Europe. I also go to the local stores, where I find really great pieces. I always try and keep track of the price tag. I love affordable clothing above all!
What, besides your wardrobe, completes your look? What completes my look is my attitude. Once I put on my edgy asymmetrical suit, I'm absolutely about to sell you a home.
What is in your bag/briefcase? Lip gloss, tape measure, paper copies of a real estate contract. I pretty much have everything for any situation. I definitely am fully prepared.
My closet is full of… A lot of pieces that I can mix and match. I only have a few full outfits — everything else is a single item so it makes it more fun for me. I constantly play with colors and patterns.
Two-piece: Designer from Sofia, Bulgaria; shoes: Diesel, from Step Top store in Lithuania; custom-made amber and leather combination ring: local jewelry maker in Palanga, Lithuania; amber necklace: Tavo Dovana gallery in Kaunas, Lithuania; necklace with emerald stone: hand-made by her daughter, Emile.