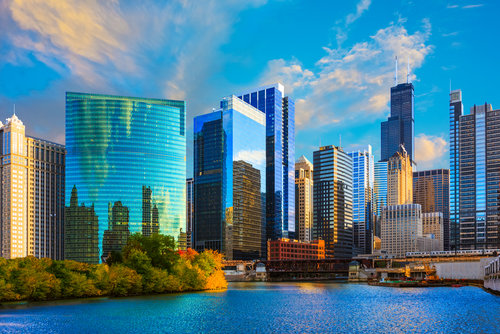 Chicago recently ranked No. 9 on a list of cities for STEM professionals, or those who work in science, technology, engineering and mathematics careers. For the study, WalletHub analyzed U.S. Census Bureau data of the country's 100 largest metropolitan areas.
WalletHub focused on three major indicators: professional opportunities, STEM-friendliness and quality of life. Chicago scored best for quality of life, coming in at No. 8, which measured housing affordability, recreation, family friendliness and how well it accommodates singles. It also tied for first for highest annual median wave for STEM workers.
According to Built In Chicago, as of October, more than 47,000 workers were employed by the city's largest 100 tech companies, marking a 15 percent growth for the year. Chicago's largest tech companies include Motorola, Groupon, Morningstar and Google.
The city is rumored to be one of several frontrunners to land Amazon's highly coveted second headquarters, HQ2. If Chicago lands the development, the number of STEM jobs in the city would skyrocket, as the ecommerce giant says the headquarters will house 50,000 high-paying jobs.
| | | | | |
| --- | --- | --- | --- | --- |
|  City | Total Score | Professional opportunities rank | STEM-friendliness rank | Quality of life rank |
| 1. Seattle | 73.6 | 2 | 4 | 15 |
| 2. Boston | 71.94 | 7 | 1 | 43 |
| 3. Pittsburgh | 65.9 | 12 | 11 | 9 |
| 4. Austin, TX | 65.15 | 6 | 8 | 27 |
| 5. Minneapolis | 64.95 | 19 | 6 | 17 |
| 6. Madison, WI | 64 | 13 | 16 | 13 |
| 7. Salt Lake City | 62.96 | 9 | 14 | 18 |
| 8. Springfield, MA | 62.8 | 36 | 2 | 7 |
| 9. Chicago | 60.71 | 49 | 13 | 8 |
| 10. Atlanta | 60.69 | 5 | 5 | 31 |