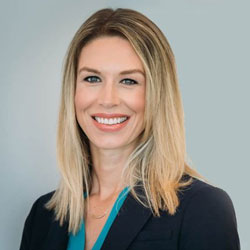 What was your first job in the realty industry? I was a buyer's agent for my cousin's team in Wisconsin that specialized in equestrian properties.
Where did you grow up? Minnesota.
Growing up, what did you want to be? A journalist.
What do you do to relax when you're stressed? Yoga, acupuncture, meditation, golf.
If you could have lunch with a well-known figure (living or not), who would it be and why? Oprah Winfrey, because she's had the opportunity and experience to meet so many others on my list! I'd love to learn from her.
Where is your favorite place to hang out? Home.
What do you love most about the industry? Helping people move from one lifestyle to the next.
How do you distinguish yourself from the crowd of agents? I'm genuine and honest. I work hard for my clients and provide them with a market education to make their own decisions. I'm not high-pressure. I want what's best for them.
What is the most difficult aspect of your job? Delivering bad news. Things don't always go the way we want in a transaction and sometimes not to my client's advantage.
Where do you go to network and meet new clients? I'm part of the La Grange Business Association. They provide a wide range of networking events. I've met some great people.
What has been your greatest accomplishment? My family. I have a wonderful husband and two kids.
What was the last good movie you saw or book you read? I recently read "The Marsh King's Daughter" by Karen Dionne.
What is your favorite restaurant? Uncle Julio's Hacienda, also a family favorite.
Architecturally speaking, what is your favorite building in Chicago? Wow, that's a tough one. Chicago has great architecture. I've always been amazed by the size of the Willis Tower. I visited when I was a kid, and I remember riding the elevator up the first time and looking out.
What kind of car do you drive? Porsche Macan.
Smartphone or paper? Hmm…I use both depending on the situation. Paper is more visual and I'm a visual person. Smartphone is always with you, so there's that!
What is your favorite city after Chicago? New York City.
In 10 words or less, what is your advice for someone new to the industry? Don't give up. Your hard work will pay off.
What's your favorite real estate iPhone/Android app? Homesnap provides useful info.
Who are your favorite people to follow on Twitter? I follow the news on Twitter, and my company, Baird & Warner. I'm a bigger fan of Instagram.