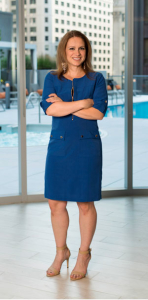 Number of years in real estate: 12
Describe your look: Busy mom (hopefully) chic.
What do you consider a "fashion don't"? Ill-fitting clothes.
What is your favorite piece of clothing and why? An old black-and-white dress from Kenneth Cole. It's cool, comfortable, machine washable, can't wrinkle, and can be dressed up or down. It's gotten the most bang for the buck in my closet.
What do you consider a must-have accessory? Earrings. They are an easy way to add color, style or an extra kick to an outfit. And they always fit!
What is a fashion crime you have committed in the past? I'm sure I commit crimes on a daily basis and I'm unaware. I don't hold myself out as particularly fashionable.
Where are your favorite places to shop? Anything close and easy. Shops on Damen. Bonus points if I don't have to leave my house, so Stitch Fix and Amazon.
What, besides your wardrobe, completes your look? Makeup! I'm addicted.
What is in your bag/briefcase? I walk to work, so it's my backpack, and there are too many things to list. I have be able to go anywhere on short notice.
My closet is full of…clothes that I don't wear anymore. I need to purge.
Earrings: Stella; dress: Amazon; shoes: CBG.