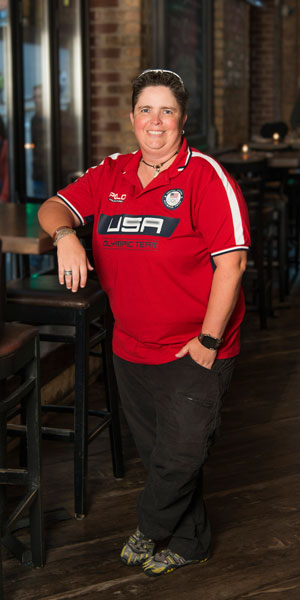 Number of years in real estate: 14
Describe your look:
"Authentic casual"
What do you consider a "fashion don't"?
Listening to others. My motto is "You do you."
What is your favorite piece of clothing?
Police 883 pocket shorts, because they are such an awesome design. I own every color they sell in the style I love!
What do you consider a must-have accessory?
Pockets in my pants/shorts for my all of my gadgets.
What is a fashion crime you have committed?
I'm sure I commit them daily in the eyes of others, and I'm so cool with that!
Where are your favorite places to shop?
Police 883 for pants. I'm a huge fan of Ralph Lauren dry fit collared shirts (current addiction: the Team USA 2016 Olympic Collection).
What completes your look?
I am a huge fan of comfort, so can be found often in shorts, flip flops or a baseball cap.
What is in your bag/briefcase?
I have a custom handmade steampunk-style leather "mobile office" bag that was made for me by an amazing Russian artist. (IT IS NOT A PURSE, KELLY PRICE AND DEENA ZIMMERMAN!)
My closet is full of…
Great stories (I love visiting my skeletons), golf shirts, Police 883 pants and shorts and about 20 vests. I have a thing for vests when I want to play dress up!
Vibram five-toed shoes, Police 883 pants, Ralph Lauren 2016 Team USA Olympic Shirt, Apple Watch, Oakley custom sunglasses