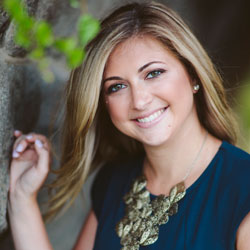 What was your first job in the realty industry? I was an associate with Baird & Warner
Where did you grow up? Morton Grove. My parents are still in the same house after 42 years!
Growing up, what did you want to be? I wanted to be a lobbyist! Yes, kind of strange. I double majored in political science and communications & culture, with a minor in Spanish, but decided not to pursue lobbying around my junior year of college.
What do you do to relax when you're stressed? Seeing my nephews brings me back to the center. When my life feels chaotic, I try to find time for a family dinner with them.
If you could have lunch with a well-known figure (living or not), who would it be and why? John Lennon. Ever since I was a kid it was always John Lennon. He was just a young musician and then used his game to preach peace. I would love to get his view on today's world.
Where is your favorite place to hang out? I love hanging out at home! Being with my husband and dog and enjoying our time outside or catching up on TV is so calming.
What do you love most about the industry? I love how every day is different! Meeting people from different industries and walks of life is great, too. I've always enjoyed talking to people and getting to know them, and in residential real estate, it is imperative to know your client well in order to help them better.
How do you distinguish yourself from the crowd of agents? I try to be as real as possible. I love helping first-time homebuyers and spending time with them in order for them to feel comfortable with all of the steps of buying, and the numbers of it all, too.
What is your favorite restaurant? Le Colonial in the Gold Coast! Since I was a little girl.
What is the most difficult aspect of your job? Not getting too connected! I am passionate about making my clients happy, and find it difficult to "leave my job at the office." If a client reaches out in need of something or upset, I want to jump right away and help.
Where do you go to network and meet new clients? I tend to use my social circles for gaining new clients. Since I grew up just north of the city, I have a large social network in the area who need to be reminded I can help them!
What has been your greatest accomplishment? I find every day to be an accomplishment. Helping a first-time homebuyer find the home they can foresee building memories in is a huge achievement!
What was the last good movie you saw or book you read? I'm a sucker for a good chick flick. I read "Me Before You" and then saw the movie, and loved them both!
Architecturally speaking, what is your favorite building in Chicago? I love the Tribune building! I love old architecture – they just don't make them like that anymore!
What kind of car do you drive? A Chevy Trax
Smartphone or paper? I keep an agenda and write all appointments in it. I also hand-write all showing schedules. I love my smartphone and all its capabilities, but still like to physically see my schedule and check off a list.
What is your favorite city after Chicago? Sevilla, Spain!
In 10 words or less, what is your advice for someone new to the industry? Ask questions! You'll never know it all – be humble!
What's your favorite real estate iPhone/Android app? iScanner has been my best friend! But I love Zillow for their mortgage calculator.
Who are your favorite people to follow on Twitter? Curbed Chicago and US Weekly!