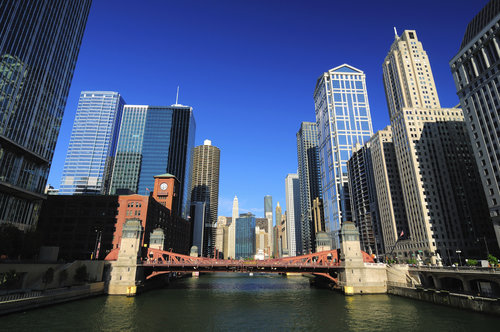 Chicago's 60603 ZIP code, which includes the city's Loop and downtown, is one of America's top residential boom towns, according to a new study by realtor.com.
The analysis – which looked at job growth, household formations and housing starts in America's ZIP codes and compared them with the national averages – rated 60603 as the No. 9 boom town in the country. Over the next five years, Chicago's downtown is expected to see household growth of 18.9 percent, along with 6,000 housing starts (1.4 times the average) and 38,000 new jobs (4.2 times the average).
Jonathan Smoke, the chief economist for realtor.com, spoke to how jobs, formations and market strength are all intertwined.
"The strength of the residential real estate market is closely correlated to growth in jobs and households," Smoke said. "The good news for these markets is that these growth factors have already started to translate into new construction. At the same time, it may be a year or so before some markets on our list start see an increase in inventory. If anything, this is a road map for where builders should be thinking about where to break ground next."
Here is realtor.com's full top 10 list, along with the relevant market stats:
| ZIP Code | Projected 5-Year Household Growth | Household Growth v Top 100 Counties | Home Starts v Top 100 Counties | Job Growth v Top 100 Counties |
| --- | --- | --- | --- | --- |
| 85297 (Gilbert, Ariz.) | 15.9% | 7.6x faster | 5.7x more | 5.8x more |
| 90012 (LA) | 8.8% | 6.1x faster | 5.0x more | 7.2x more |
| 75201 (Dallas) | 14.9% | 3.0x faster | 3.8x more | 4.8x more |
| 33132 (Miami) | 14.9% | 3.0x faster | 3.0x more | 2.5x more |
| 89179 (Las Vegas) | 19.4% | 3.3x faster | 3.3x more | 2.5x more |
| 98121 (Seattle) | 11.9% | 3.1x faster | 3.1x more | 2.3x more |
| 27571 (Rolesville, N.C.) | 12.1% | 1.7x faster | 2.4x more | 1.3x more |
| 11249 (Brooklyn) | 9.2% | 1.9x faster | 1.9x more | 2.0x more |
| 60603 (Chicago) | 18.9% | 2.5x faster | 1.4x more | 4.2x more |
| 30363 (Atlanta) | 15.7% | 1.6x faster | 2.3x more | 1.4x more |