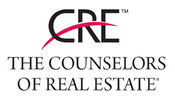 The Counselors of Real Estate, an international group of high-profile real estate, financial and legal professionals, is pleased to announce the 2014 officers for its Midwest Chapter.
David Hooks of MarketHooks Consulting, Inc., will serve as the chapter's chairman. The co-vice chairs will be Charles Brigden, Vice President at Clarion Associates, and P. Barton DeLacy of DeLacy Consulting. The position of secretary will be held by Celeste Hammond, Director of the Center for Real Estate Law at the John Marshall Law School, and Bruce Reid, President and Chief Operating Officer at Arthur Hill and Company, will serve as the chapter's treasurer.
Peter Burley, Director of the Realtor University Research Center, will serve as membership officer, and Cassandra Francis, Chicago Realty Company's Director of Project Services, will be the chair of chapter activities.
The chapter's jurisdiction includes the states of Illinois, Indiana, Iowa and Wisconsin. For more information on this chapter, to secure a CRE speaker for an upcoming event, or to obtain the advice of a local CRE expert, please contact the chapter chairman, David Hooks, at (312) 454-8700 or [email protected].