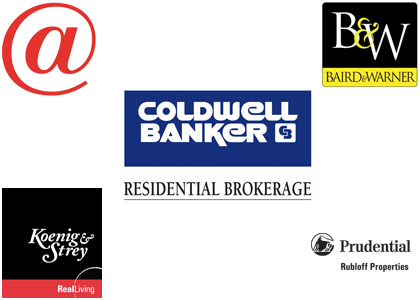 Combined sales of the biggest Chicago brokerages jumped 27 percent from 2011, according to a report by research and publishing firm, REAL Trends Inc.
Coldwell Banker, Baird & Warner, @properties, Prudential Rubloff Properties and Koenig & Strey Real Living all increased their sales in 2012, up from 2011.
Fran Broude, president of Coldwell Banker, said her company succeeded because of the help and support they provided for their agents.
"As far as factors go, I think attracting and supporting productive quality real estate agents is always going to be the key to any company's success," she said. "While we were watching and feeling that the market might be starting a slow recovery in 2012, we focused a lot of our efforts and resources on tools and products our agents might be able to use to create a differentiation between themselves and other companies."
In an interview with Crain's Chicago Business, Jennifer Alter Warden, president of Baird & Warner, said shoppers were finally becoming active in the market last year. She said the market, in addition to investing in their business, helped Baird & Warner increase their sales by 31 percent.
"A lot of the things we were doing in terms of reinvesting and just stepping up coincided with the market changing," she said. "We're pleased everybody worked very, very hard and are continuing to work very hard."
Crain's Chicago Business also reported that @properties adapted to the busy market by opening up new offices in the northern suburbs, such as Highland Park, and adding 150 agents to their team. This year, they have plans to open offices in the DuPage County market.
"It was our best year ever by a long shot, and the momentum we have behind us feels really good right now," @properties co-founder, Michael Golden, said.
These Chicago brokerages have had a good year in 2012, and signs are showing that it will continue to be a good, if not, better year in 2013.
"To a large degree, everybody's feeling more consumer confidence," Broude said. "I don't think we're on a fast wrap-up, but I do think we're seeing a very good, steady recovery and all indicators seem to be going in the right direction: average sale price, units, volume and debt. We're sustaining that month-over-month for the first time in a while."
Below are infographics of the total sales volume (in millions) of these Chicago brokerages, and the number of transactions, comparing 2011 to 2012.