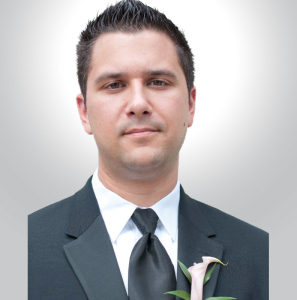 What was your first job in the realty industry?  I earned my license immediately upon graduating from college and started working for Frank DeNovi. Frank is one of the biggest REO agents out there, and he was kind enough to give me a job doing a lot of the leg work for his properties to supplement my commission checks, or lack thereof! I was responsible for re-keying properties, property inspections, completing BPOs, things of that nature.
Where did you grow up?  Arlington Heights, IL.
What is your favorite free-time activity?  I am a huge foodie and love the downtown restaurant and nightlife scene. I actually write a blog, NewmanKnowsChicago.com, which is about food, restaurants, real estate, etc., in Chicago, and it's given me an excuse to turn a passion into an avenue to attract new business.
What do you do to relax when you're stressed? We have a family home in Scottsdale, and whenever I need to tune out, I go for a couple days. It's up in the mountains, so the cell phone reception isn't very good, and I can totally veg out and just enjoy the weather and silence. If I can't get out of town, a good, long workout followed by some time in the sauna works well, too.
Growing up, what did you want to be?  For a long time, I was obsessed with becoming a sports agent, Jerry Maguire-style, but my interest faded away. I also considered law school and financial planning, but my heart was never in either of those things the way it is with real estate.
If you could have lunch with a well-known figure (living or not), who would it be and why?  Gandhi. In a world so full of violence and hate, I think it's amazing that one person could inspire so much positive change without hurting anyone or lifting so much as a finger in anger. I can't even imagine how much he could teach me about humility, perseverance and faith in humanity!
Where is your favorite place to hang out?  I live and work downtown, and I honestly feel like you could throw a dome over that area and I'd be fine, as I never have to leave. Amazing restaurants, culture, nightlife and anything you want is literally within walking distance.
What do you love most about the industry?  No two days are ever the same. Every day presents a unique and challenging set of issues to work through to be successful. I also love that despite how competitive it is, some of my biggest competitors are also some of my closest friends. The people in this business are incredible!
How do you distinguish yourself from the crowd of agents?  I make it a point to outwork everyone around me. I try to be the first one in and the last one to leave, and I think that level of dedication and passion really resonates with clients.
What was the last good movie you saw or book you read?  "Six Tires, No Plan: The Impossible Journey of the Most Inspirational Leader That (Almost) Nobody Knows" by Michael Rosenbaum. The book was very well-written and inspiring. A great read for Realtors!
Architecturally speaking, what is your favorite building in Chicago?  35 E Wacker – known as the "Jeweler's Building" because it was designed with a car elevator inside so the merchants could literally drive their cars full of precious stones up to their businesses. The dome on top was rumored to be a speakeasy owned by Al Capone, too, which is just cool history.
What is your favorite city after Chicago?  Paris. I went there for the first time over Christmas and had a blast. I can't wait to go back.
In 10 words or less, what is your advice for someone new to the industry?  The only limitations you will experience will be self-imposed.
What's your favorite real estate iPhone/Blackberry app?  I have two: Shoeboxed is amazing for quickly storing and databasing receipts and expenses on the go; and Slydial, which allows you to avoid having to speak to someone so you can just go straight to voicemail and leave a message without the risk of that person picking up.
Who are your favorite people to follow on Twitter?  I follow a lot of famous chefs and local Chicago celebrities, as well as anyone who I think has an interesting perspective on what's going on around here. I also follow a lot of YPNers and other top producing agents around the country so I can learn from them.