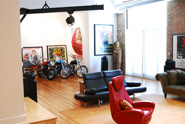 Co-op commission 2.5% plus $3,000 bonus at closing if under contract by May 31, 2010
This historic street car repair loft was built in 1876, and completely remastered in 2006. Set in the middle of the East/UK Village neighborhood, the three-bedroom, three-and-two-half-bathroom home has a true chef's kitchen with maple cabinets, eight double stack burners, two ovens, two dishwashers and includes a hidden walk-in pantry. The theater room has the original engine hoist at the top of the 14-foot ceilings. Three touch panel "brains" control all the audio/visual, heating and air conditioning and security system. Each bedroom features full bathrooms and California closets, with a Jacuzzi and separate rain shower in the master bathroom. The home has heated floors, 8-foot windows and a two-and-one-half-car garage with roll top doors.
For more information, contact Michael Morrison with Exit Strategy Realty at 312.519.6900 or by e-mail at modawg5@aol.com.
ASK THE AGENT
How did this listing become yours? The seller of this gem was referred to me from a past, multiple purchase client – I love referrals!
How many showings have you had? There have been nine MLS-generated showings, and more if you include word of mouth.
What is the most exciting feature of your home? Exciting is a lackluster word when describing the features of this home, but to narrow it down, folks get "excited" about the true chef's kitchen, the hidden pantry, the massive space and the engine hoist.
What makes this home right for the luxury market? It's rare to find 4,971 square feet stuck in the middle of a real neighborhood. Built in 1876, this remastered loft is a one-of-a-kind Chicago masterpiece. With the recent price reduction, there is a very lucky buyer out there somewhere.