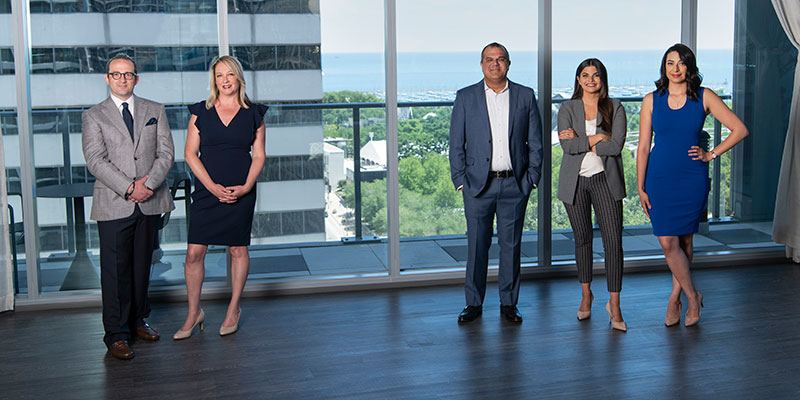 Riz Gilani, Broker/President
Amy Davis, Broker/Operations Manager
Tessa Dargis, Broker
Randy Romano, Broker
Marissa Suastegui, Broker
Between brokers Riz Gilani, Amy Davis, Tessa Dargis, Randy Romano and Marissa Suastegui, the RG Group has all of Chicago covered. Helmed by Gilani, the RG Group of Dream Town Realty serves buyers, sellers and investors throughout the city and its suburbs, applying their expertise as longtime area residents.
Through their combined 35 years of experience, the RG Group have earned a loyal following, with 90% of their business coming from past clients and referrals. "For our team, the name of the game is service. We never think of real estate as being about sales; it's always about providing top-notch service and building relationships," says Gilani. "There's enough stress in the process for our clients, so we do all the hard work to make things easier for them. We truly try and take as much off our clients' plate as possible, so we will regularly coordinate contractors and stagers to get the listing market ready. We'll even wait for the movers while a client is at the title company closing on their new home!"
As the team's operations manager, Davis handles the administrative and back-end processes, while Suastegui acts as a showing agent for Gilani's listings (in addition to growing her own personal business), and Dargis and Romano conduct their own buying and selling transactions. "While we all have our individual roles within the team, we still collaborate on a daily basis and are there to back each other up," Gilani says.
Earning the Bronze level designation from the Chicago Association of Realtors in 2020 for sales and unit volume, the RG Group is now among the top 1% of Realtors in Chicago. On his own, Gilani has ranked as a Top Producer every year since 2009 and a Five Star professional every year since 2011.