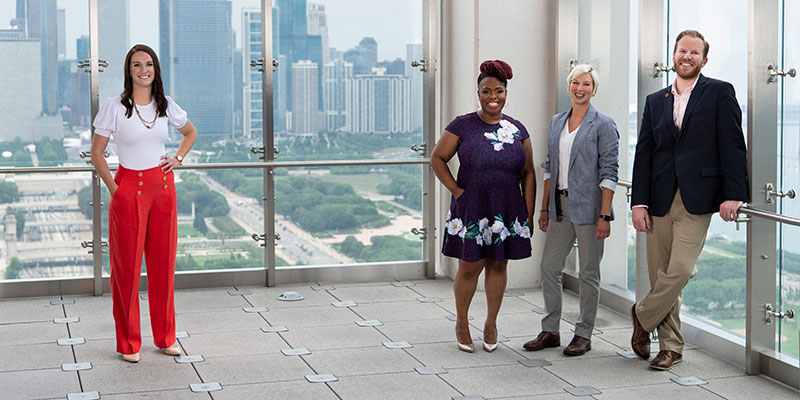 A strong mentor, a driven spirit, and an uncanny familiarity with all the ins and outs of Chicago's north and northwest neighborhoods are factors that came together to solidify Gloria Wiekert, Lead Broker of X Plus Team at Compass, as a leading real estate mind in the area.
"Weston Harding started the X Plus Team in 2011 and taught me everything I know about multi-units, house hacking and all the neighborhoods I'm privileged to work in," Wiekert says of her six years in real estate. "We do primarily multi-family but also a good third of our business is single-family home and condominiums." Serving first-time buyers all the way to portfolio investors, Wiekert knew real estate was for her when she realized in her 20s that she simply didn't want a desk job. After organizational changes at a former employer, Wiekert made her move into Chicago's real estate market. With a variety of career experiences, Wiekert says, the move to real estate feels like the perfect fit.
"I call my career path 'the Goldilocks Method' in that I loved each stage, but it wasn't just right until real estate," she says. "My clients can trust me to lead with integrity and have their best interests truly at the center of everything I do." And when she says she works hard to help a client get into the right house, she's not kidding – she once helped a tenant move 1,000 pounds of vintage records into their new apartment. "I stuck to my word on that one!"
Thankful for her path and driven for securing her team's future, Wiekert sets clients up for success with a perfected process from start to finish, providing reassurance and trustworthy advice for all her clients.
"Fun, easy and educational," she says of her approach. "I think of myself as a member of my clients' team."