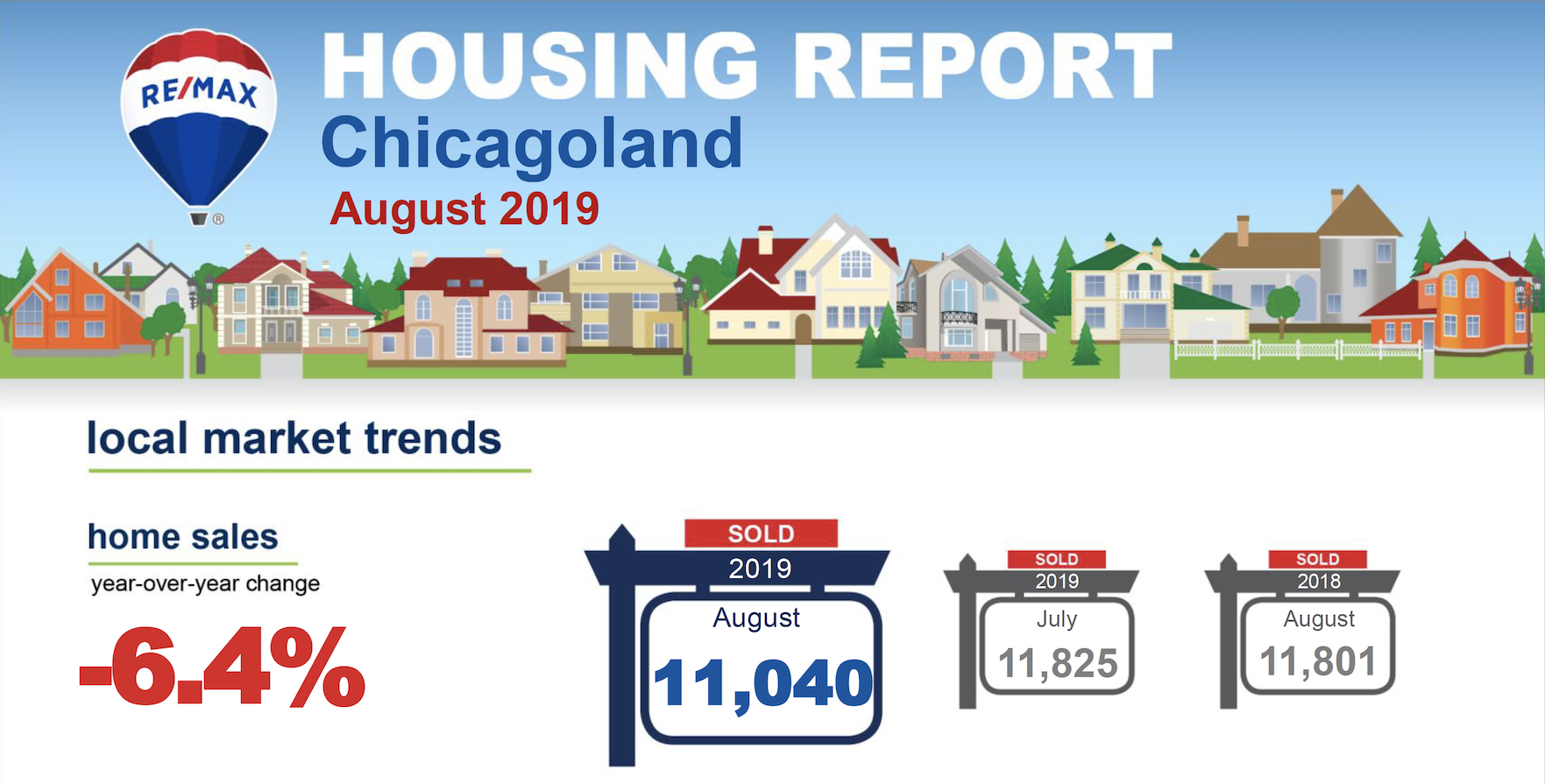 RE/MAX's August 2019 housing report found that home sales in Chicagoland are declining at a pace faster than the national average, when examining year-over-year trends. The report noted that home sales are down 6.4 percent over August 2018, which is significantly higher than the 1.6 percent decline based on MLS data in the 53 metro areas the brokerage examines.
Month-over-month numbers aren't much better; last month the market posted 11,040 sales, while in July 2019, sales were at 11,825 — slightly higher than what they were a year ago in August. Inventory and the time listings spent on the market also went up over last year. The number of days on the market clocked in at an average of 37 — up one day from last year. Inventory was at a 4.5 months supply in August 2019, a full month more than last year at this time.
Still, prices are simultaneously increasing, continuing to defy the laws of supply and demand. Median sales price increased by 3.9 percent year-over-year to $252,000 in August. However, this did represent a decrease over the previous month's average, which was $259,000. Still, the increase was lower than the 5.7 percent rise seen nationwide.
Paul Wells, broker-owner of RE/MAX of Barrington, said that even with these price increases, there are still many deals to be had for buyers on the luxury end and sellers with homes priced on the lower side of the spectrum. "There are exceptional values on the market in the higher end of the pricing spectrum," he said. "The low- to mid-range homes are selling fast if they are in good condition. Inventory is very slim in those price ranges. Many buyers … are also willing to pay top dollar for the right home."
In terms of the six-county area that encapsulates Chicago Agent magazine's coverage area, the biggest changes were in DuPage County (with an 8.62 decrease in home sales and a 13-day increase in terms of time on market) and Lake County (+10.6 in median sales price).