Number of years in real estate: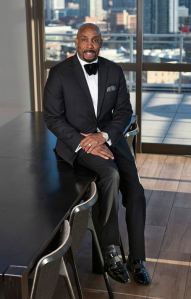 29 years
Describe your look:
I liken it to GQ: dapper, stylish and debonair.
What do you consider a "fashion don't"?
When the bow tie doesn't match the pocket square
What is your favorite piece of clothing and why?
A very fashionable bow tie gives your look ultimate sophistication. It also happens to work really well with my nickname, "007 of Home Security."
What do you consider a must-have accessory?
Cufflinks
What is a fashion crime you have committed in the past?
I have worn wool pants and linen jackets together, but once I saw an image of myself wearing that combination, I could see how awful it looked.
Where are your favorite places to shop?
I love Men's Wearhouse; they always take great care of me. Jojayden on 53rd in Hyde Park is where I go when I need to take fashion risks. I also love Erick Knowles Jr.'s suit store, GQ Gentlemen.
What, besides your wardrobe, completes your look?
The diamond Rolex watch my gorgeous wife bought me as a wedding gift
What is in your bag/briefcase?
A Gucci wallet, business cards, a cell phone charger and tons of ADT Security Gift Certificates … Gum if I don't forget!
My closet is full of…
Suits and bow ties.
Suit: Tux; shirt: Men's Wearhouse; shoes: Hugo Boss; watch: Rolex