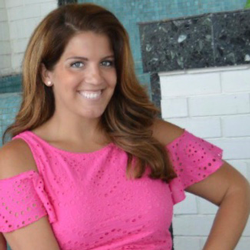 Growing up, what did you want to be?
Many things! I wanted to be a physical education teacher, as I was an athlete growing up, an agent to the stars or in hotel hospitality. They're all very random, but that is what I remember and all are in the service of others.
What do you do to relax when you're stressed?
When I'm stressed, I put down my phone and work to be present with family and friends. A walk, workout and some good music help too!
If you could have lunch with a well-known figure (living or not), who would it be and why?
I would have lunch with Jennifer Aniston, because who wouldn't? Princess Diana as well. Both would be a great conversation!
What do you love most about the industry?
I love the constant change. Every single day is different, and there is always a new challenge or obstacle to overcome. As real estate professionals, we are constantly kept on our toes on a rollercoaster ride of a career!
How do you distinguish yourself from the crowd of agents?
My empathy and honesty to my clients are what they always recognize in me. I will tell them my opinion and never push them — unless they need it and it's for a good reason! I respect my clients and they respect me for that.
What is the most difficult aspect of your job?
Handling and overcoming objections. Every transaction is different and clients need to be counseled to that particular deal. It can be challenging, but worth every minute!
Where do you go to network and meet new clients?
It's always important to socialize! I'm lucky to have a good friend base that refers clients to me, and I am meeting new faces and connecting with people from the past constantly. I am also on the board of the Arlington Heights Junior Women's Club which has broadened my outreach to meet potential new clients.
What has been your greatest accomplishment?
Work-wise, every year I have outperformed myself from the previous year. In 2017, I was the top producer in my office by in volume out of more than 100 agents, and had only been in the business for four years.
What was the last good movie you saw or book you read?
I'm more into television shows. Homeland, The Sinner, and Ozark are my current top picks!
What is your favorite restaurant?
Bob Chinn's Crab House or any authentic Italian restaurant
Architecturally speaking, what is your favorite building in Chicago?
The London Guarantee Building
What kind of car do you drive?
2019 Kia Sorento SXL
Smartphone or paper?
Smartphone
What is your favorite city after Chicago?
Positano, Italy
In 10 words or less, what is your advice for someone new to the industry?
Work hard and it will pay off in time.
What's your favorite real estate iPhone/Android app?
I love HomeSnap for quick information and Docusign to get things done on the go.
Who are your favorite people to follow on Twitter?
I'm more into Instagram. Ryan Serhant is very motivating to follow and I go to thebrokeagent for a good laugh!