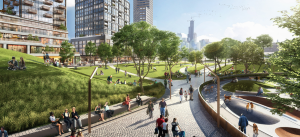 Sterling Bay's Lincoln Yards development is losing one of its flashiest elements. Alderman Brian Hopkins of the 2nd Ward notified constituents that he would not approve plans for the 54-acre mixed-use development unless plans for a soccer stadium and entertainment district were dropped from plans.The alderman's office conducted a poll showing that 53 percent of constituents were opposed to the stadium aspect of the plan. Only 23 percent said they were in favor of it. Park space is expected to be revised into the developer's plans for the portion of the site that had previously called for the stadium. Hopkins told The Real Deal that nixing the stadium was "one of the easiest decisions" he's been charged with making regarding Lincoln Yards.
"People were envisioning 20,000 people arriving and leaving every day, and thinking about the massive traffic jams that would bring," Hopkins told the publication. "Anyone who goes to live near Wrigley Field comes to expect that, but this would be imposing something brand new on a neighborhood that wasn't prepared to accept it."
The death of the stadium plan also means a planned entertainment district also bites the dust.
•A new 22-story ultra-luxury condo tower is being proposed for the Gold Coast, at 12 West Maple Street. David Pisor, who developed the Elysian Hotel & Residences (now the Waldorf Astoria) around the corner at 11 East Walton Street, will develop the project with partner James Lasky. Pricing on units in the building isn't available yet, but a number of 2018's top condo sales were at No. 9 Walton, less than a stone's throw away. A public meeting on the project will be hosted by 2nd Ward Alderman Brian Hopkins on Jan. 22.
•Coldwell Banker will take its Global Luxury brand to the Magnificent Mile, in a rebranding of its operations at 676 North Michigan Avenue. The rebranding reportedly came with a gut renovation of the office, which will be the first outpost of the Global Luxury brand in Illinois. With the office fully staffed, about 80 agents will make it their home base. The announcement comes the same week that former Coldwell Banker agent Jennifer Ames announced that she had left Coldwell Banker to launch the first Chicago area office of German luxury brokerage Engel & Völkers.