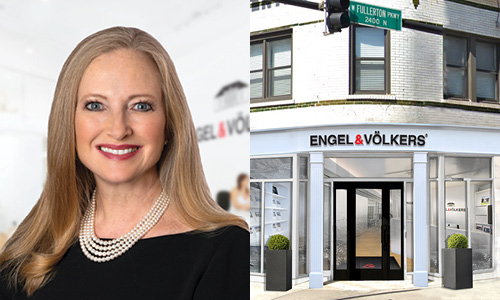 There will soon be a new brokerage in town — and it will be helmed by a local household name.
Jennifer Ames announced Jan. 7 that the Ames Group she leads will be leaving Coldwell Banker and opening the first Chicagoland office of international luxury company Engel & Völkers. Ames will own the Chicagoland territory for the German brand with her husband, Paul Lazarre. She will manage and lead its operations while remaining active selling Chicago real estate.
The relationship between Ames and what will become her new brokerage began in November 2016, with a refrain heard around Chicago often when strangers meet: "So, what do you do?"
Jacob Stepan, Engel & Völkers executive vice president in charge of expansion, was on a plane from New York to Boston. His seatmate happened to be one of Ames' longtime clients. After describing the Engel & Völkers brand, Stepan remembers the client telling him, "You've got to meet my friend Jen."
Business cards and best wishes were exchanged, and the two men went their separate ways. Stepan remembers feeling good about the interaction and eager to follow up, but figured that most likely, it wouldn't amount to much. "You meet someone on a plane; how often does that turn into anything?" Stepan said. "At the time, Jenny was happy with where she was. But she did her due diligence and learned about us."
In no rush to commit to anything, Ames found that she liked the brand's design aesthetic and attention to detail and began to look more carefully at its operations. "We 'dated' for a while before deciding to tie the knot," she joked.
The two-year courtship led her to visit several of the brand's offices around the country and in Europe, observing how things functioned in its clean, white-walled spaces, which the company calls "shops." The visits eventually gave way to meetings, and those meetings to a deal for Ames and Lazarre to purchase the rights to operate under the Engel & Völkers brand throughout the Chicagoland area.
"I don't like change, and I wasn't actively looking to make a change," Ames said. "I like a boutique environment, so I'm excited to be somewhere that's not so huge locally, but still has a global reach. There's nothing else like it here."
That reach includes about 160 local offices in the Americas and nearly five times that many globally, according to numbers provided to Chicago Agent magazine by Engels & Völkers. About 3,100 agents (known in company parlance as "advisers") work under the brokerage's flag in the Americas and the number is over 11,000 throughout the world.
For the brand, which was founded in Hamburg in 1977, expansion to the Chicago market was a natural fit, Stepan said. "It was imperative that we have a presence in Chicago. It's one of the top cities in the country and it's a feeder market to a lot of other nearby markets."
But "where" is only part of the picture. "Who" can be just as important, according to Stepan. "When we partner with somebody, we're giving them the rights to our brand for 10-plus years, so it's really important that we're picky about who we partner with," he said. "Finding that person or group of people is sometimes an art, and sometimes it's a science, but it has to be a marriage of equals. It only works if it's mutual."
Ames told Chicago Agent she sees all the makings of a perfect fit at her new company. "Everything about the Engel & Völkers brand aligns with my vision of an ideal brokerage, starting with the fact that it is built on quality and innovation," she said. "I love the clean, sophisticated design aesthetic; the commitment to quality and personalized client service; and the overall level of professionalism."
Engel & Völkers' only established Midwest presence is in Minneapolis, a market where it has operated a total of three offices for about the past three years. Its largest markets domestically are southern California and South Florida, where its local operator recently acquired Coconut Grove brokerage Select Realty Group. The brand's first Chicago location will open later this year at the corner of Clark and Fullerton in the heart of Lincoln Park, Ames told Chicago Agent. While the space is being readied for opening, Ames and her team will operate out of a temporary location in the Southport Corridor area of Lakeview, on the North Side.
"Our goal is to be where there is high pedestrian traffic in neighborhoods where our clients live, work and play, with inviting window displays reminiscent of a fine jewelry store," she said, adding that the space will include a coffee shop and a wine bar. She said her aim is to create a gathering space as much as a real estate office.
As Ames envisions it, the office may even become the kind of place where two strangers might meet and one might ask the other what they do for a living — and where the conversation leads could be anyone's guess.