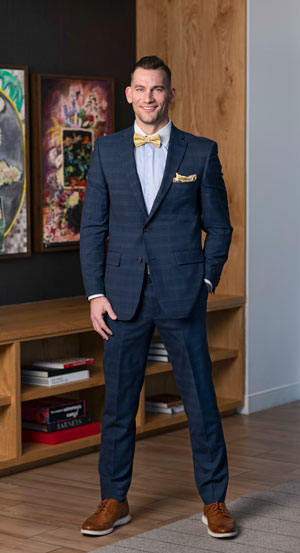 Number of years in real estate: 5
Describe your look: Business comfortable, or "here to make a deal"
What do you consider a "fashion don't"? Wearing oversized clothes
What is your favorite piece of clothing and why? A tie that I got for Christmas last year from my goddaughter that reads, "My godfather you'll always be, Love Brooke" on the inside.
What do you consider a must-have accessory? Anything that showcases your true personality and style.
What is a fashion crime you have committed in the past? Wearing beat up shoes — research shows that the shoes you wear have a major effect on first impressions, which in our industry, makes them a super important detail.
Where are your favorite places to shop? Nordstrom, Boss, J. Crew, Lululemon, Brooks Brothers, Bonobos
What, besides your wardrobe, completes your look? A fresh haircut
What is in your bag/briefcase? Briefcases are for old men! And they're too clunky; I carry my smartphone, keys and AirPods — that's it.
My closet is full of… Button-downs, suits, shoes and ties
Suit: Calvin Klein; dress shirt: Ralph Lauren Polo; shoes: Cole Haan; bowtie: Tommy Hilfiger