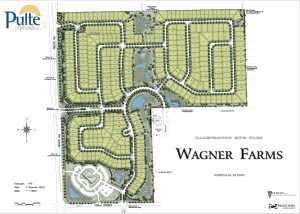 If Atlanta-based single-family homebuilder Pulte Homes has its way, Naperville will soon become 113 acres bigger.
Wednesday night, the Naperville Planning and Zoning Commission approved Pulte's request for a recommendation that the 113-acre site formerly occupied by Wagner Farms be rezoned from agricultural use to residential use and that it eventually be annexed into the growing municipality. The project will next have to go before the full Naperville city council.
Pulte wants to build 312 detached single-family houses on the site, along with a new building to house the Compass Evangelical Free Church. Earlier this year, the developer bought the tract, which had been home to a farm on the Northeast corner of 103rd Street and Route 59, on unincorporated land near Naperville's southern fringe.
The homes would range from 2,300 square feet to just over 3,500 square feet, according to the Naperville Sun, and a proposal to the city of Naperville calls for them to be set back from the two major thoroughfares adjoining the development site.
Pricing for the homes will range from the mid-$400,000's into the $600,000's, according to a Pulte spokesperson.
Plans for the new subdivision also call for direct access to nearby Frontier Park, which lies within Naperville's current borders.
The site was the longtime home of Wagner Farms, a vegetable farm that has operated a farm stand there since the early 1960s.
Naperville has grown in recent decades largely through the annexation of undeveloped lands to its south and west. Since the last census, Naperville's estimated population growth was about 3.9 percent. The Census Bureau now pegs its population at about 147,000. The city overtook Rockford as the state's fourth most-populous this spring.