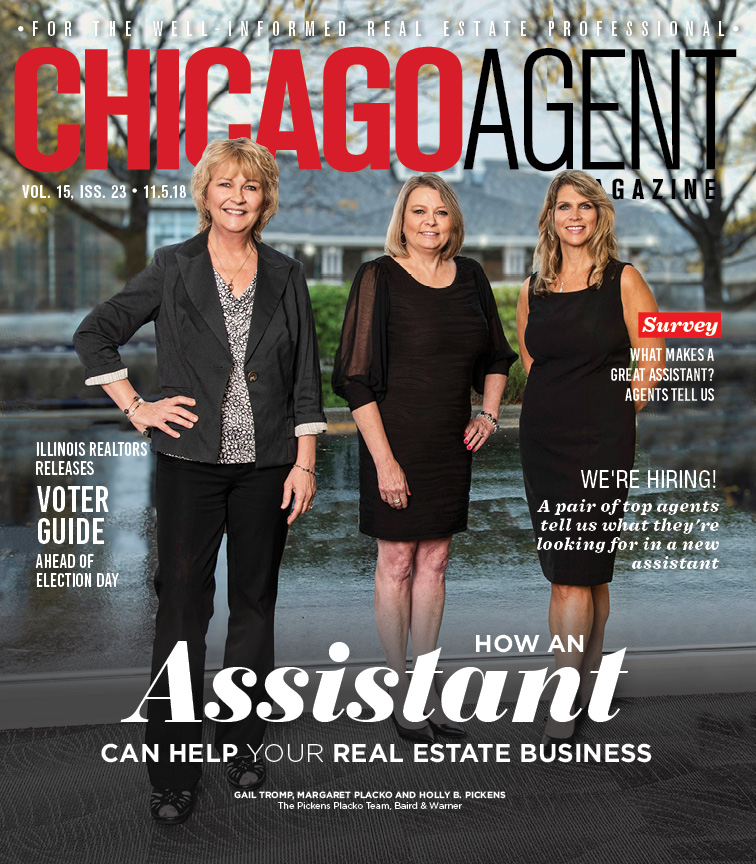 It's hard for agents to meet with clients, show listings and make the vital connections that are key to becoming more successful when they have to spend too much time handling administrative tasks and other essential duties. That's why, according to the National Association of Realtors, 18 percent of agents currently use an assistant. Many agents believe that once they are achieving more than 20 transactions per year, it's time to hire an assistant.
Doing so can ease some of those burdens and make agents more efficient and more accessible to their clients. A well-trained and capable assistant can maintain an agent's schedule, manage marketing duties and organize all the paperwork necessary for each transaction. These individuals can become invaluable members of a real estate team and help the business grow to new levels.
So how do agents find the right assistant for their business?
Holly Pickens of the Pickens and Placko Team with Baird & Warner emphasizes knowing what kind of help you want from an assistant before hiring someone.
"One of the big things is to be clear on the job description so that you know how things are going to be taken off of you in the business," Pickens says. "And to find somebody who fits your personality and fits the way you do business so you know the way that they think about doing business is also the same way that you think about business."
When — and where — to get support
Bryan Bomba of Coldwell Banker hired his first assistant in 1998 during his first year as a real estate broker. He realized he needed help once he was doing more than two transactions a month.
"I actually transitioned over from the appraisal side of the business to the broker side," Bomba says. "I had a working knowledge of systems, but in my first year I hired someone because I realized that I needed that capacity and skill set that I lacked."
Jennifer Mills Klatt, whose Home Discovery Team is associated with Jameson Sotheby's International Realty, began working with assistants 15 years ago.
"I first started my business 30 years ago," Mills Klatt says. "I realized I needed an assistant when I got to the point where I felt I couldn't give every aspect of my business the level of attention that I felt was required. For your productivity, it's worth it because you have a personal support system for your personal real estate needs."
At the Pickens and Placko Team with Baird & Warner, both Pickens and Margaret Placko have decades of experience in the industry. Once they started working together as a team, they hired their first assistant on a part-time basis.
"You want someone who is highly organized and able to multitask," Placko says. "The business changes minute by minute. One of the other things that was very important to us was the ability to prioritize. We're on the fly and running around in and out of the office and we needed somebody who knew what was important at a given time, could get it done, and could do that without us being here."
---
More on this issue
Agent survey: All about real estate assistants
A pair of top Chicagoland agents now hiring for an assistant. What are they looking for?
Illinois Realtors releases voter guide ahead of Election Day
Changing approaches
Taking on an assistant represents a major fundamental shift in how agents conduct their business. But with time, the assistant can provide enough value to justify expanding the team and adding more assistants or more agents.
Bomba started out by hiring a part-time assistant he found through an ad on Monster.com. That individual had experience working as a counselor for a relocation services company. As his business grew, he added more help.
Today, Bomba has a team of seven people who work full time exclusively for his group:
A client care manager who handles operations with an emphasis on listings
A client care specialist with paralegal experience who focuses primarily on closings
Two buyer specialists with extensive real estate experience
A project manager who provides assistance where needed
A weekend administrative assistant who also handles operations tasks
"I generally do not hire an operations person if they have real estate experience," Bomba says. "I've learned with experience that they come with too many bad habits and too many ideas about the way things were done at the last place they worked, which tend to be very different than the way I work. It was better for me to find a good person who was intelligent and willing to learn, and teach them the real estate business."
Pickens and Placko work with two assistants on their team. One is an unlicensed administrative assistant, while the other is a licensed agent they worked with in the past. Both serve valuable roles for their business.
"Our unlicensed assistant does a lot of our data management," Pickens says. "They produce our marketing materials not only for buyers but for sellers and handle a lot of our listing management. Meanwhile, our licensed assistant does things like appraisals and home inspections and closings. Any appointment that requires a license. We hired a licensed assistant because it would free us up from having to do that running around so we can spend that time with our clients."
"I expected to be kept busy, and that is what I am," says their unlicensed administrative assistant, Gail Tromp. "I would say that I didn't truly realize all of the behind-the-scene activities and knowledge needed to get things done and make all of our jobs flow smoothly, and ultimately to get you the result of happy clients."
The licensed assistant handles tasks like appraisals, home inspections and closings that require a license, freeing up the brokers to spend time with their clients.
Mills Klatt has one assistant – her nephew, Luke Jorwic – and the individual members of her team each has an assistant. Jorwic had expressed an interest in working with her as a teenager and joined while he was still a student at Loyola University.
"First and foremost, you want someone who takes initiative; someone who mirrors you and follows and understands the level of detail you require; someone who is selfless when it comes to their time management," Mills Klatt says.
Preparing for the role
Hiring someone for the important work of helping manage a real estate office involves teaching them your unique systems and helping them get a feel for the connections that are invaluable to an agent.
Bomba uses a training strategy with lessons drawn from his vast experience in the industry, as well as tutorials for the software tools he uses in the office. His group has a joint venture agreement with Apple that includes maintenance and repair service for devices and training on how to most effectively use them. Bomba also turns to online instructional materials for helping his assistants get the most out of the Google Office tools his team uses.
"It's a combination of my 2,500 transactions of experience interlaced with the formal training put on by the groups," Bomba says. "In addition, I travel to a number of real estate conferences throughout the year and I bring back what I consider the latest and greatest techniques."
Mills Klatt says Jorwic was able to quickly grasp many aspects of the business. He also had some administrative experience prior to the role, making the training process a matter of letting him absorb all he could about the industry.
"Training was lot of mirroring when it came to just tagging along on showings, sitting inspections and sitting open houses," Mills Klatt says. "Luke's pretty detail-oriented, so when it came to following through with how I like to do business we both sat down and he created checklists. We have checklists for everything so that we know what to expect for every possibility you can imagine."
Pickens and Placko and the other two agents who are members of their team, Chloe Gatziolis and Michael Placko, also sit down with their new hires to explain the systems they use in the office and train the assistant on how to handle them. They use the same process when introducing a new system so everyone can get up and running quickly. They also have access to the training provided by Baird & Warner.
"We're really blessed that we work with the company that we do because housed in our office is a senior sales support manager," Placko says. "If a new person comes on, that manager will make sure that they get the training from the staff to get our assistant's skill set up on the MLS and on the paperwork that needs to be turned in at a corporate level. They actually do all of that training for assistants, which is fantastic for us."