My Style: Gia Devenyi, Realtor, @properties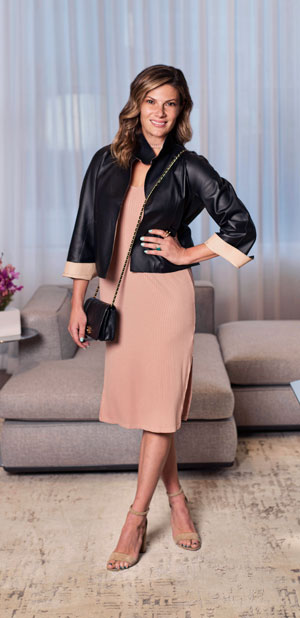 Number of years in real estate: 12 years.
Describe your look: Savvy, chic, edgy.
What do you consider a "fashion don't"? I feel that everyone has their own individual style. This is one of the reasons why I love Chicago so much. You can literally go out wearing whatever. However, for real estate agents, don't leave the house looking like you just left the bar at 4 a.m. (And if you did, fake it!)
What is your favorite piece of clothing and why? I suppose these black pants that have this attached wraparound loose black belt on it. It's super comfy and loose, but yet tapered at the ankles. I can wear them in the winter or in the summer. Love, love, love.
What do you consider a must-have accessory? Rings!
What is a fashion crime you have committed in the past? I am super guilty for once wearing my belt over my belt loops. I actually got my nickname "Fashion" for that about 15 years ago because I was told it was a "fashion belt," meaning it served no purpose whatsoever.
Where are your favorite places to shop? I'm a huge supporter of our local boutiques. Tarnish in Ukrainian Village has some very unique jewelry and leather pieces. I also enjoy Nordstrom, especially if I can have a glass of wine and shop. No harm in that, right?
What, besides your wardrobe, completes your look? A sweet pair of shades. I have at least 5 pairs of sunglasses.
What is in your bag/briefcase? I always have a tape measure, red lipstick and a roll-on perfume for emergencies.
My closet is full of… Coats and jackets. Some people have a shoe problem, I have a coat problem. Fur, leather, leopard. You name it, I got it.
Leather blazer: Natori; dress: Topshop; purse, Chanel; shoes: Sam Edelman; gold ring: Kate Spade