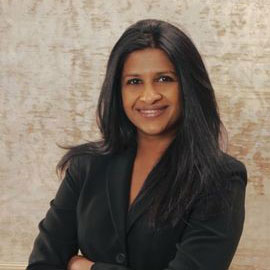 What was your first job in the realty industry? I have always taken a keen interest in real estate. At 19, I gave all of my savings from my internship to use as a down payment for my parents' home in the suburbs of Boston. I realized at a young age that real estate was an easy way to build wealth.
Where did you grow up? I grew up in the Boston area and moved to Chicago 25 years ago.
Growing up, what did you want to be? I wanted to become a teacher.
What do you do to relax when you're stressed? I actually tend not to get stressed, but one thing I enjoy is listening to music and writing.
If you could have lunch with a well-known figure (living or not), who would it be and why? I would love to have had lunch with Amelia Earhart because she defied social conventions and proved that women can do whatever they want.
Where is your favorite place to hang out? I love hanging out at home.
What do you love most about the industry? I love that real estate is an integral part of people's lives, whether it is used simply for building wealth or for living a certain lifestyle.
How do you distinguish yourself from the crowd of agents? I am fortunate in that my sphere of friends and family are well connected within the community, and as such I am an agent with access to leading information and resources that clients really appreciate. This can vary from information on types of schools and admission process, sports and coaches and referrals to the top attorneys, accountants and physicians in the state.
What is the most difficult aspect of your job? When a deal falls through due to things out of my control.
Where do you go to network and meet new clients? I go to large gatherings at least twice a month whether it is a fundraising event or meetings. Several of my clients have been referrals; quite a few I am working with now are international clients.
What has been your greatest accomplishment? Besides my family, I would say the fact that I went to the College of Engineering at 14 years old.
What was the last good movie you saw or book you read? "The House on Mango Street" is an easy read with powerful vignettes that showcase optimism. It's a reminder that while we all want to succeed, we should never forget who we are.
What is your favorite restaurant? Bob Chinn's in Wheeling. It's my go-to place for celebrations and large family gatherings — well worth the drive if you live in the city and love seafood.
Architecturally speaking, what is your favorite building in Chicago? I have several favorites but I would say that the Merchandise Mart has crept up to the top of my list lately. With its rich history and magnificent stature, the visits to the Mart is something that I look forward to stay current on furnishings and interior design ideas.
What kind of car do you drive? Porsche Cayenne. I enjoy driving and for some reason I have always owned an SUV; I also never buy the same brand twice.
Smartphone or paper? I strive for balance — my smartphone due to its convenience during the day, and paper at night and on vacations.
What is your favorite city after Chicago? Hinsdale.
In 10 words or less, what is your advice for someone new to the industry? Keep the bar high by being professional and ethical always.
What's your favorite real estate iPhone/Android app? Park Chicago!
Who are your favorite people to follow on Twitter? I don't tweet.